Thursday Treats is about all of the best things I have had happened in the past week as far as good things, good foods, awesome finds at stores, great TV shows, etc.
Today is Target day.  Although I loved my awesome finds last week, I am curious if anyone did any toy returns this past week or if they will mark more toys down this week or wait till next week.
The combine and demolition derby were a good time this past week.  All three of us enjoyed ourselves.  S loved watching them all the cars crash.  Now we are debating about taking him to another demolition derby at another county fair.
B and I got a date night last Friday to see Trace Adkins in concert.
Big Brother has been pretty good this past week.  I love that Amanda is up for nomination.  I guess the people really do see through the fakeness and want her gone.  Finally, we have a voice on Big Brother.  How many seasons have you sat and been bummed about who got kicked off?  Me personally, every season.
We finally started getting tomatoes out of the garden.  Why B can never just grow regular tomatoes is beyond me.  We have amish paste, green zebra, yellow pear, mortgage lifter, better boy, big boy, rocky top, and super sweet.  They all taste good so I could really care less as long as I have tomatoes.  Normal tomatoes grown in regular gardens: cherry, grape, roma, early girls and celebrities.
I got my Carefree Crafts subscription box and S dug right into it.  He was so excited about all of the crafts that we had to do one as soon as we opened it.  Go figure the one craft we did was missing the string to complete it.  B is always there to save the day and was able to get S some string from the garage.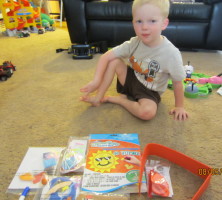 Rivals II, is so good.  I love the fact that Trey and Zach got eliminated because they did not follow the rules.  Videotaping finally came in handy.  Why have they never addressed the Jonna and Zach relationship that happened last time?  Does anyone else remember seeing Jonna on the Vegas reality show when she was a terrible waitress?
What good things have you been treated to you this week?
Although I do Thursday Treats, it is pretty similar to Jen at Ramblings of a Suburban Mom's Thursday Thoughts, so I am linking up with her today.
Disclaimer: I have never claimed to be any great writer. So any mistakes that are made are my fault. Sometimes I mix up names B, S, and P, but I think you can figure out who I am talking about. If you find any grammatical errors just fix it in your mind so it sounds right.