January 5, 2017
Comments Off

on Thursday Treats
Thursday Treats is all about the best things I have had happen in the past week as far as good things, good foods, awesome finds at stores, great TV shows, etc.
While I wish I was completing this to post it on Thursday morning, I am glad that I am typing it on Thursday night and will get it posted by midnight.
Today was the first day of trying to potty train P.  At 9am she had a wet diaper so I changed her and she ran around naked all morning.  I got her to sit a bunch of times on the potty but not once did she pee or poop.  Ugh, what the heck?  It becomes 11:30am and still nothing.  Many attempts have been made with no success.  There haven't been any accidents so that was a plus.  At 12:30pm she kept saying, "Ow."  I knew she needed to poop and she started begging for a diaper.  So I gave in and put one on her after three attempts to go on the potty.  It was also nap time so I told her I would put a diaper on her for nap time.  When she got up at 3:30pm from her nap her diaper was still dry.  I guess it was a way of potty training.  If she wants to hold it all morning and have no accidents and then go when she wears a diaper at naptime or bedtime okay.  What a weird way to go, but in other ways she is potty trained in her own way.  Guess we will see how tomorrow goes!
We are going back to the doctor's tomorrow for P.  Hopefully they can tell us whether her pneumonia is gone or getting better.  She is still having serious coughing fits, so I have no idea what is going on.  This time we are going to be seeing her doctor which makes me feel better because he really knows her.
B got the counter in the computer room.  It takes up  most of the room but we knew that when we put it in there.  S will get most of it for his trains and I will get a small portion of it to scrapbook on.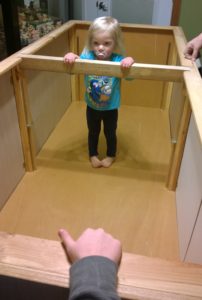 What good things have you been treated to you this week?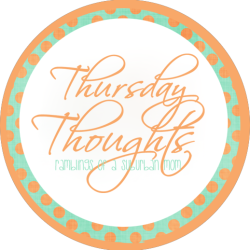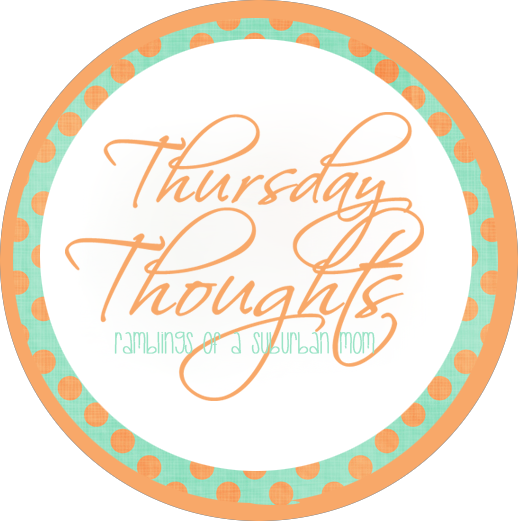 Although I do Thursday Treats, it is pretty similar to Jen at Ramblings of a Suburban Mom's Thursday Thoughts, so I am linking up with her today.
Disclaimer: I have never claimed to be any great writer. So any mistakes that are made are my fault. Sometimes I mix up names B, S, and P, but I think you can figure out who I am talking about. If you find any grammatical errors just fix it in your mind so it sounds right.