July 11, 2013
Comments Off

on Thursday Treats
Thursday Treats is about all of the best things I have had happened in the past week as far as good things, good foods, awesome finds at stores, great TV shows, etc.
OMG, I was just watching MTV The Challenge: Rivals II and CT and Diem kissed.  I soooo want them to get back together.
S got to go to a build with B on Saturday.  He made the cutest little Despicable Me 2 car.  S even painted it blue all by himself (or so I am told).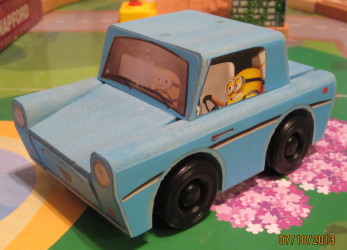 I got some great finds this past week at Target.  It has definitely got me itching to find more deals at Target.  This month is one of the best to find deals in toys, baby, shoes, Fourth of July, Summer stuff and garden/seasonal.  I have not been able to post all of my finds yet, but keep checking I will get them up hopefully today before I do another Target shopping trip.
I started on working to get the whole house clean.  I have started to go room by room.  I got S's bedroom done last week, and was able to get my bedroom and bathroom done yesterday.  Hopefully today I can get S's bathroom done and at least the kitchen table and island.
S makes me smile just watching him drive his new truck around.  He loves it.  I cannot believe how good he is at going in reverse.  It is like watching an adult back up, he looks over his shoulder the whole time he is in reverse and turns his wheel in the correct directions.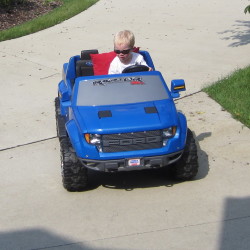 B and I took S to the Disney Store Playdate last night and it was 'Animation Studio.'  On the way to the mall, S fell asleep and did not want to wake up when we got to the mall.  I finally got him to wake up right before the playdate started.  They were learning how to draw Piglet today.  For S only being 3 ½ years old, he did awesome at drawing Piglet.  He also got his second punch.  We are on our way to getting that key chain and watch.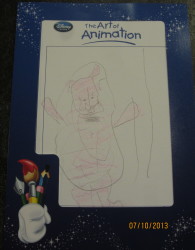 What good things have you been treated to you this week?
Although I do Thursday Treats, it is pretty similar to Jen at Ramblings of a Suburban Mom's Thursday Thoughts, so I am linking up with her today.
Disclaimer: I have never claimed to be any great writer. So any mistakes that are made are my fault. Sometimes I mix up names B, S, and P, but I think you can figure out who I am talking about. If you find any grammatical errors just fix it in your mind so it sounds right.