February 12, 2016
Comments Off

on This Week's New Baby Products Reviews
Disclaimer:  I received this product for free or highly discounted in exchange for an honest review.  All thoughts and opinions expressed are mine.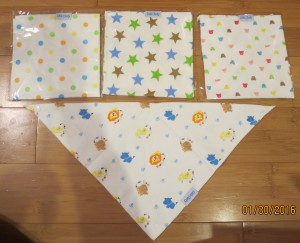 Just as I think I have found the newest and latest baby products more and more keep coming out.  Here are just a few that I have come across this week.
Baby Bandana Bibs by Little Cheeky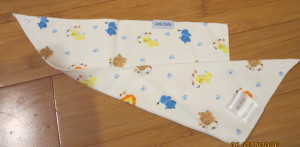 I love baby bandana bibs and only wish I had them when P was teething last year.  I just recently learned of these bandana bibs and love to give them as baby shower gifts.  When I make diaper cakes these are so easy to roll up just like a diaper.  Bandana bibs are very trendy and much softer than a traditional bib.  Instead of having to use plain bibs that have Velcro closures that can scratch or ties that can pull hair these had snaps.  The patterns on these 4 bibs are adorable and gender neutral.  There is a star, small bear head, polka dots, and Safari animal's prints that are very cute and babyish.  The bandana bibs are made of 100% soft cotton.  The backing on this is also cotton so if the baby is really drooling the drool may soak through into the baby clothes which could cause irritation.  The bibs will work great for a small amount of drool or when feeding a baby.  The Baby Bandana Bibs by Little Cheeky are only $9.97 on Amazon.com.  #LCBandanas
Baby Changing Pad for Public Restrooms by Germie Phobe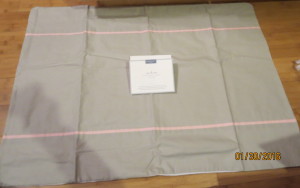 I had no idea when I heard of this what it was going to be.  I was imagining disposable paper towels.  I was so surprised by what I got instead.  The changing pad is huge.  It is the size of a receiving blanket.  The top was grey cotton with pink ribbon trim.  The underside of the pad has a waterproof backing.  This changing pad was so large that I could use it as a blanket for playtime.  This would work great outdoors because if the ground was wet, this would prevent the blanket from getting wet.  The changing pad could be used as a changing pad or a blanket for playtime.  The Baby Changing Pad for Public Restrooms by Germie Phobe is only $25.00 on Amazon.com.  #GermiePhobe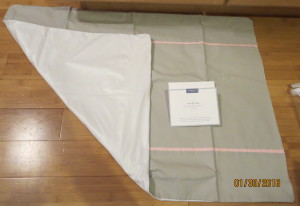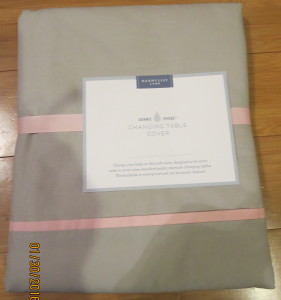 Organic, Bamboo Baby Washcloths 3-pack by Vayeebo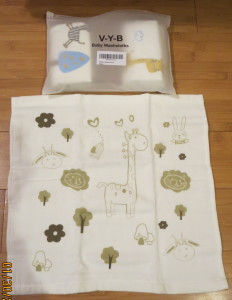 The 3-pack of Bamboo Baby Washcloths are much bigger than a normal washcloth.  They are 12×12 which is so much bigger.  The washcloths are 100% bamboo on one side and 100% cotton on the other side.  The designs on the three washcloths are unique and different.  One had zebras, another giraffes, and the last had bunnies, giraffes, and I think cows.  The washcloths were gender neutral, not that it really matters when it comes to washing a baby.  They definitely go with a Safari theme if someone is choosing that.  The Organic, Bamboo Baby Washcloths 3-pack by Vayeebo is only $12.99 on Amazon.com.  #babgwashcloths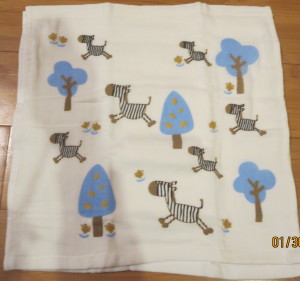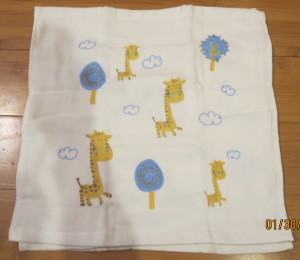 Non-Slip Anti-Bacterial Wear Resistant Bath Mat by MyHomie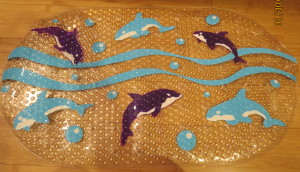 When P moved out of her baby bathtub and into the regular bathtub.  Although she was big enough to sit on her own in the tub she did not have the stability to sit without slipping or tipping over.  A bath mat at the bottom of the tub has helped considerably with the making it easier for P to sit in the bath.  Now that she has gotten bigger and tries to stand in the tub on her own.  With this bath mat there are small bumps on the topside which helps to prevent slipping.  The bottom of the bath mat has suction cups to adhere it to the bath tub.  There are two patterns rocks and dolphins.  I chose the dolphins because I thought P would like to see the fish at the bottom of the tub.  The Non-Slip Anti-Bacterial Wear Resistant Bath Mat by MyHomie is only $14.00 on Amazon.com.  #oMyHomieHugeDiscount
I was chosen to review these baby products through Tomoson.com.  Basically how it works is you select items you would like to review and if they chose you, the product is purchased through Amazon.com.  If you have a Prime Account with Amazon shipping is free and a coupon code is provided from the company making the product free or highly discounted.  In exchange they are looking for an honest review on their product.
Disclaimer: I have never claimed to be any great writer. So any mistakes that are made are my fault. Sometimes I mix up names B, S, and P, but I think you can figure out who I am talking about. If you find any grammatical errors just fix it in your mind so it sounds right.