May 22, 2016
Comments Off

on This Week's New Baby Products
Disclaimer:  I received this product for free or highly discounted in exchange for an honest review.  All thoughts and opinions expressed are mine.
Just as I think I have found the newest and latest baby products more and more keep coming out.  Here are just a few that I have come across this week.
Soft Muslin Swaddle Blankets 4-pack by Stolina
The 4-packof green and white muslin blankets are the perfect solution for the summer months to come. Babies love to be swaddled after they are born and in the summer these blankets make it easier and not have to worry about the baby overheating.   I really liked the neutral colors of white and green that will work for a boy or girl.  Each blanket is 47" square.  I could not believe how big they are and fell like they could wrap around a baby forever.  The Soft Muslin Swaddle Blankets 4-pack by Stolina is $24.97 on Amazon.com. #StolinaSwaddles
Yummi Pouch Brights Reusable Food Pouches by Revelae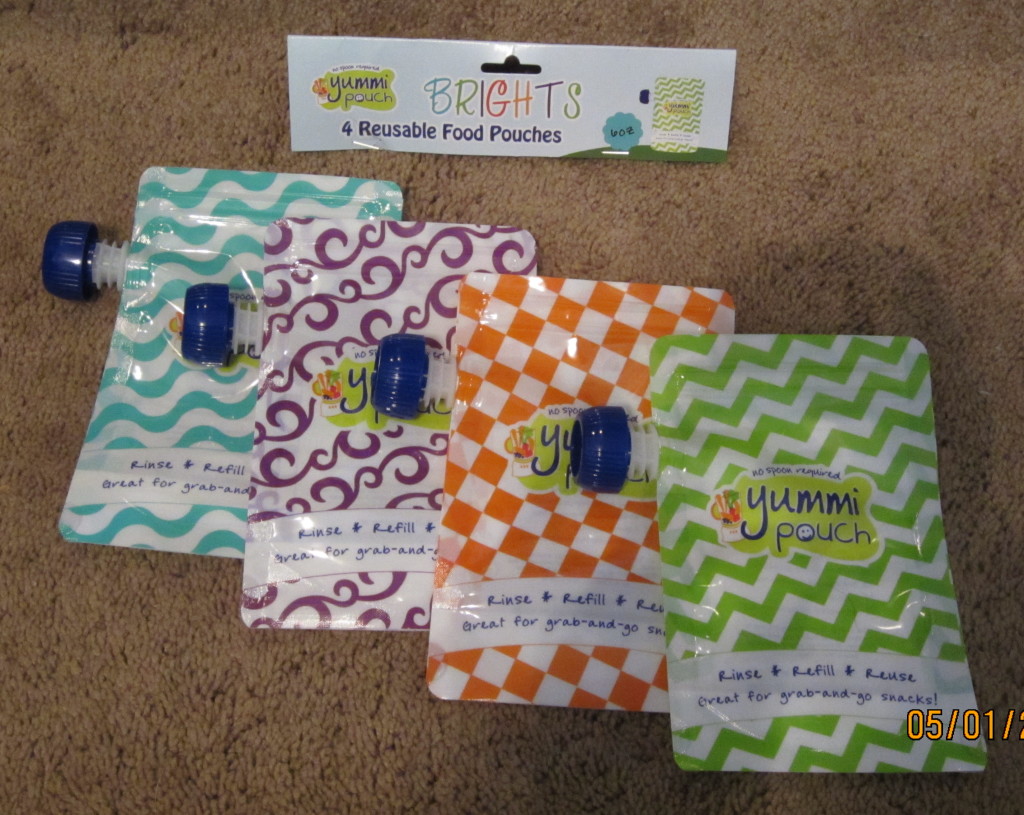 Yummi Pouch Brights are a little different than other reusable pouches I have used in the past.  These pouches are filled through the top versus the bottom.  It makes it so much easier to load because I can stand up the pouch before I fill it and not have to hold it in one hand and fill with the other.    With the side spout it is different for P to use but she doesn't seem to mind.  As far as washing them I did not notice it to be any easier or harder than pouches with the zipper on the bottom.  The Yummi Pouch Brights Reusable Food Pouches 4-pack is $9.99 on Revelae.com.  #YummiPouch
Shopping Cart and High Chair Cover by Mushy Babies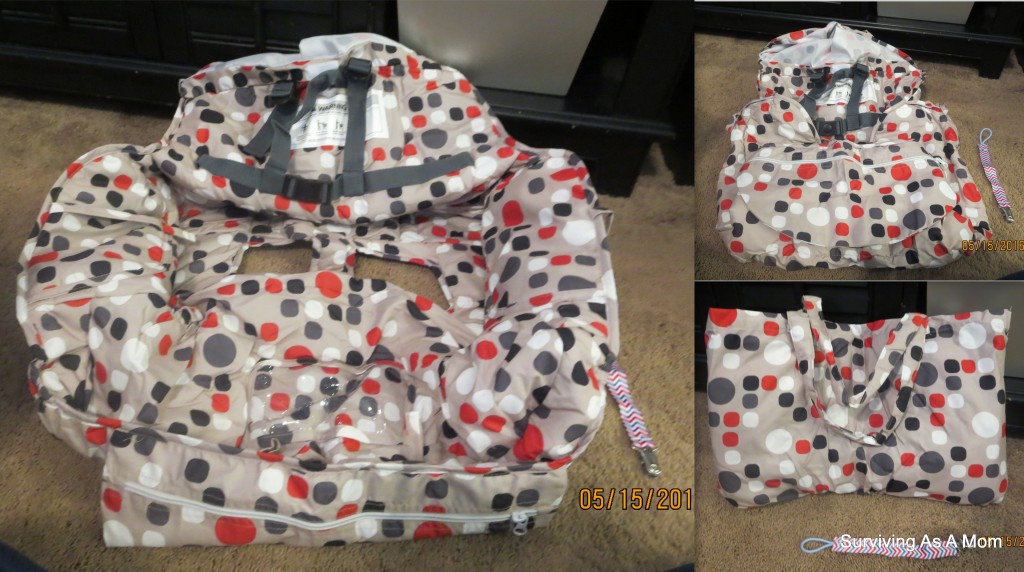 I have used a shopping cart cover since S was a baby.  I prefer to have the carts covered so I don't have to worry about my kids sitting in germs, stickiness, or wet carts. Neither of my kids ever protested and has always sat in cart covers.   The shopping cart cover by Mushy Babies is a cute polka dot pattern that would work for either gender.  There are three loops that will hold toys to entertain your child.  There is also a cell phone pocket where you can put your phone for your little one to play games or watch videos on your phone.  As a bonus there is a pacifier clip included.  The Shopping Cart and High Chair Cover by Mushy Babies is $25.59 on Amazon.com.  #Shoppingcartcover
Baby Pacifier Clip, 4-pack by Pashoshi Baby

I have never kept it a secret that I love to use pacifier clips and have come to know what I like and don't like in them.  I love the look of these clips.  They look more boyish but I like to have P wear blues more than pink so these would match nicely.  However, I do not like metal clips.  I don't like the idea of P sticking the metal clip in her mouth.  The plastic teeth inside the metal clips leave marks on the clothes.  I have a close-up picture of the plastic teeth and the mark left in the packaging it came in.  I like the design/patterns on each strap.  The Baby Pacifier Clip, 4-pack by Pashoshi Baby is $25.59 on Amazon.com.  #PashoshiBaby
Memory Foam Crib Wedge by ComfyBumpy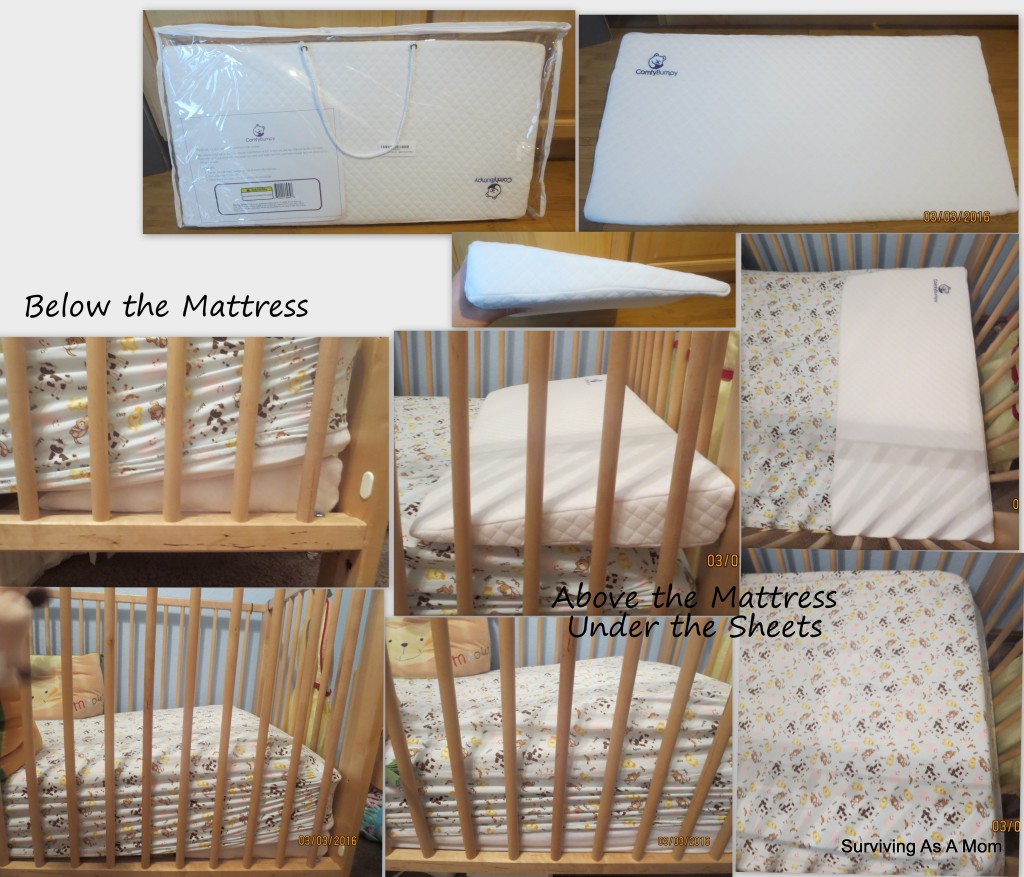 I have had this for a few months and really wanted to give this a good test before I did the review.  This foam wedge is meant to go on top of the crib to elevate the baby to help relieve with colds, acid reflux, or for just plain comfort.  It is recommended on the packaging to not use once your child can rollover.  I don't really need the elevation about the mattress, but below the mattress.  I used to use a pillow to help elevate the mattress for P to sleep on a slight incline.  Pillows do not hold their shape and tend to flatten out.  When P got a cold I put this wedge under her mattress and it gave the correct amount of elevation needed.  Because P did not mind the elevation I have left the wedge under her mattress now for over two months and she does not mind.  I only wish I had found this when S was a baby.  It is so easy to install and has held its shape.  The Memory Foam Crib Wedge by ComfyBumpy is $39.99 on Amazon.com.
I was chosen to review these baby products through Tomoson.com.  Basically how it works is you select items you would like to review and if they chose you, the product is purchased through Amazon.com.  If you have a Prime Account with Amazon shipping is free and a coupon code is provided from the company making the product free or highly discounted.  In exchange they are looking for an honest review on their product.
Disclaimer: I have never claimed to be any great writer. So any mistakes that are made are my fault. Sometimes I mix up names B, S, and P, but I think you can figure out who I am talking about. If you find any grammatical errors just fix it in your mind so it sounds right.