May 2, 2016
Comments Off

on This Week's New Baby Products
Disclaimer:  I received this product for free or highly discounted in exchange for an honest review.  All thoughts and opinions expressed are mine.
Just as I think I have found the newest and latest baby products more and more keep coming out.  Here are just a few that I have come across this week.
Trendy Diaper Bag by CherishBags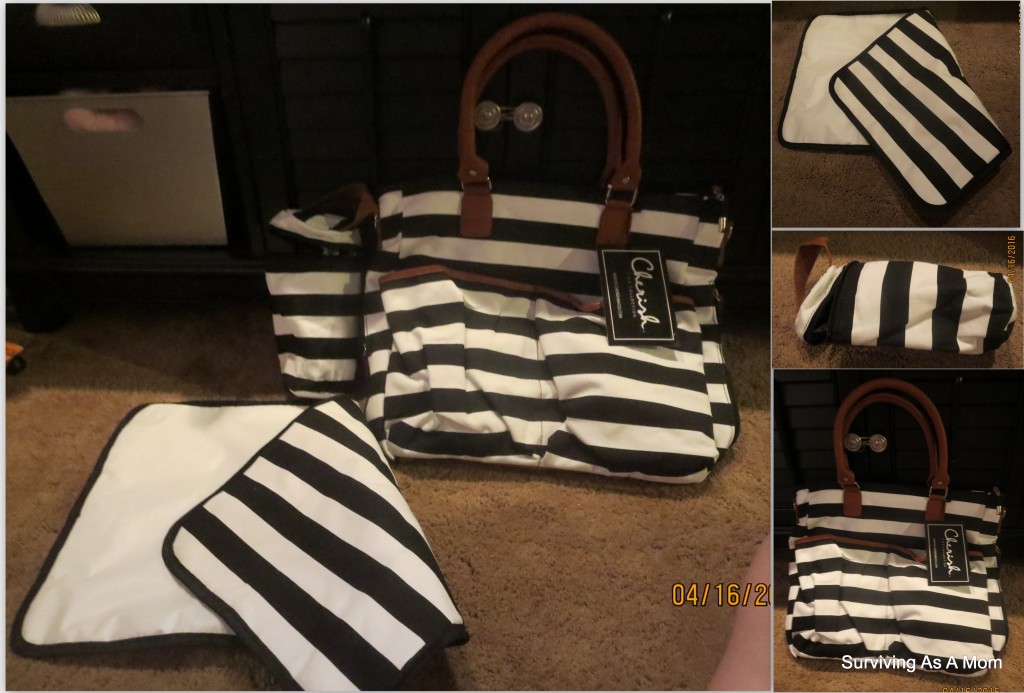 Since I had my son six and half years ago I have always been on the hunt for the best diaper bag that would fit all my needs.  I think this bag has fit it and more.  It is such a cute a stylish bag I am tempted to use this as a purse instead of a diaper bag.  Nothing about it screams diaper bag which is a bonus for me.  This bag can be carried by the handles or on your shoulder with the strap provided.  Inside a changing pad and bottle bag were included to make things easier.  I have had no problems finding enough pockets and storage to hold all the necessities: diapers, wipes, diaper cream, thermometer, toys, extra toys, a change of clothes, a blanket, my phone, my car keys, a bottle of water, snacks and more.  Yes, I actually got all of that in the bag and more.  It doesn't look like it is going to bust open at the seams which is key.  The Trendy Diaper Bag by CherishBags is $44.99 on Amazon.com.  #CherishBags
Baby Boy Ribbon Pacifier Clips-Pack of 4 by Stuff4Tots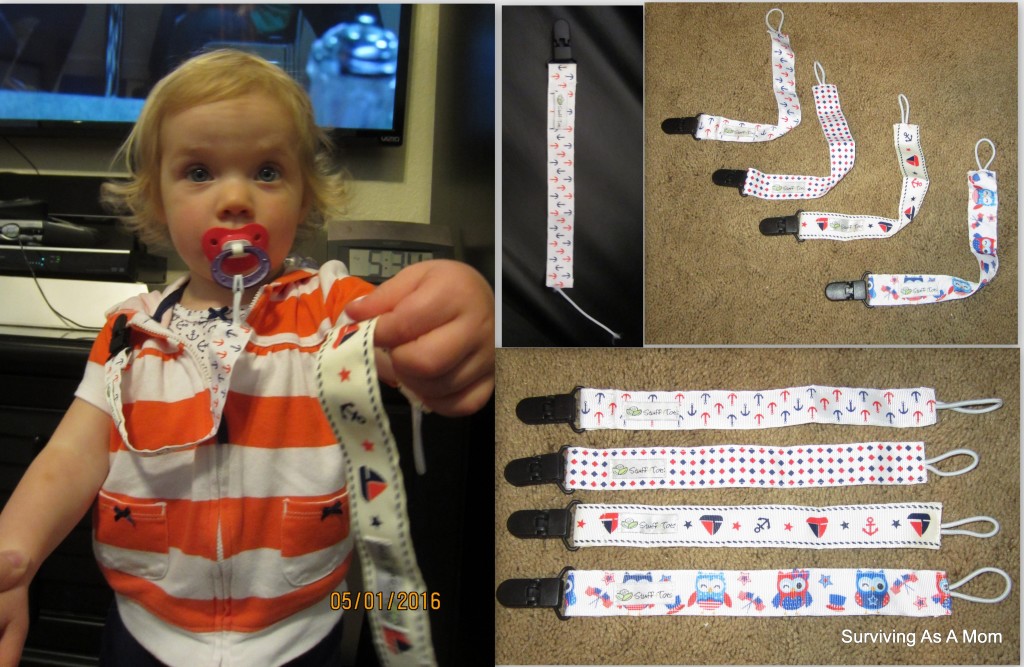 By now you should know I am obsessed with pacifier clips and love using them for pacifiers and more.  I have found that pacifier clips that are made of plastic work so much better.  I don't have to worry about my daughter chewing on the metal clips and the plastic clips do not leave marks on her clothes like the metal clips have done in the past.  I don't really need to have a ton of pink girly clips so I got the boys package this time and love the colors.  They are all orange and navy with different patterns and decorations on each: owls, diamonds, sailboats, and arrows.  This pack of pacifier clips just happen to match P's outfit when I was taking pictures.  Unfortunately after she wore the first binky clip for like an hour the elastic loop that holds the binky broke.  She came right to me to show me. I switched it out for another one.  The four pack of clips comes in boys ribbon, boy's variety pack, and girl's variety pack.  The Baby Boy Ribbon Pacifier Clips-Pack of 4 by Stuff4Tots is $11.95 on Amazon.com.  #stuff4tots
Bamboo Changing Table Pad Liners by Luv4Baby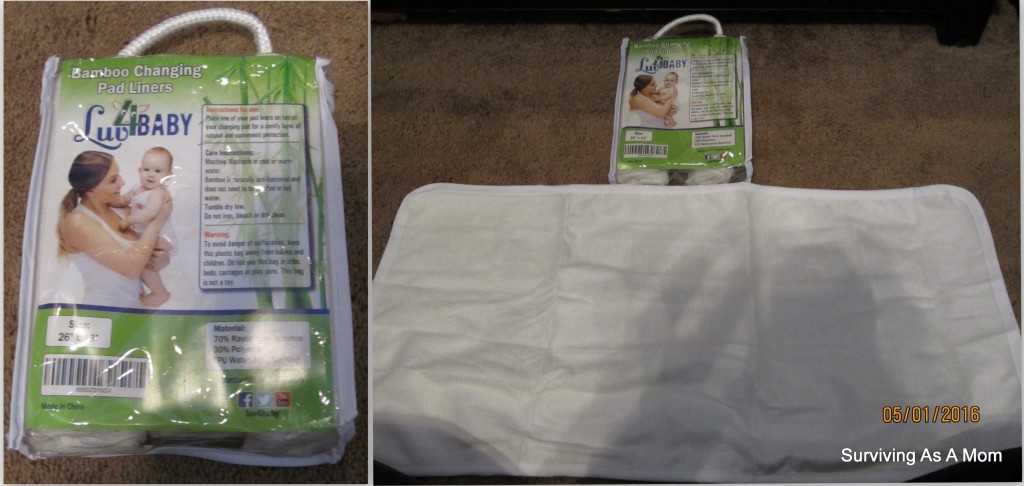 Changing Table Pad Liners are a necessity for diaper changes.  Sure you have a cover for you diaper changing pad, but the liners are meant to go on top of the cover so you can change the liners easily when necessary and not have to change the entire cover.  Even though P is almost 2 years old I still use them and even have to change them when I get a messy diaper.  The bamboo liners are antibacterial, soft, and hypoallergenic.  These changing pads cannot only be used over the diaper cover but also kept in the diaper bag to use in public restrooms or when you are out and about.  The Bamboo Changing Table Pad Liners by Luv4Baby are $17.99 on Amazon.com.  #babypad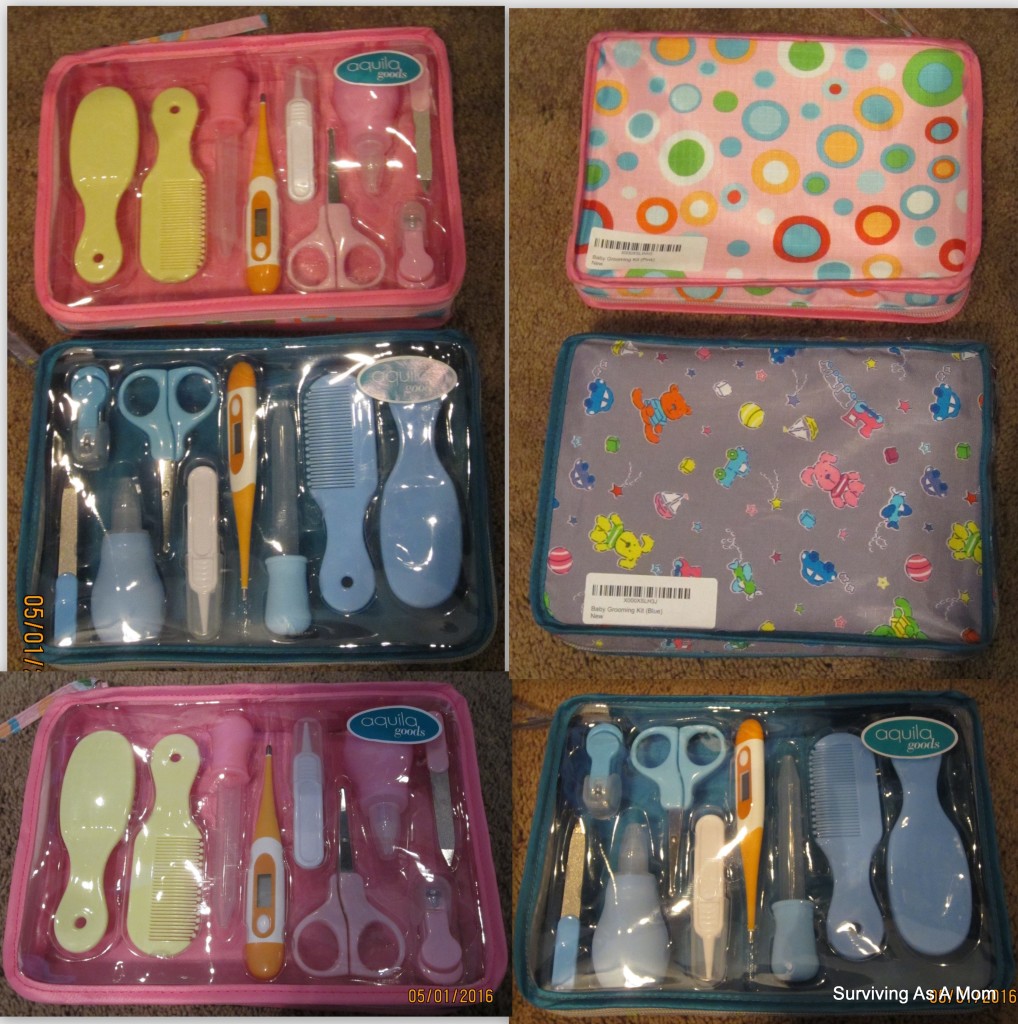 While it is not something we always think of baby's need their nails need cut, their hair needs brushed, and sometimes they need their temperature taken.  Now some babies may not need their hair brushed at all the first year, at some point they will need their hair brushed.  If you are really lucky you won't need to use a thermometer for a really long time, but eventually you will.  Now fingernails and toenails will need clipped.  To be able to get all of that done you need a grooming kit.  Sure you can buy the items individually but with a grooming kit there is a place to store all the items together so you know exactly where to find them.  This 10 piece grooming kit has everything that any parent needs to get started.  There is a soft brush, comb, nail clipper, nail file, scissors, tweezer, digital thermometer, medicine dropper, nasal aspirator, and travel storage bag.  I ended up getting one in pink and one in blue because they make great baby shower gifts.  The Ultimate Baby Grooming Kit in blue is $12.89, and the pink is $14.99 on Amazon.com.  #AQUILAGOODS  #Utimatebabykit
Pinnacle Insulated Leak Proof Lunch Box for Adults and Kids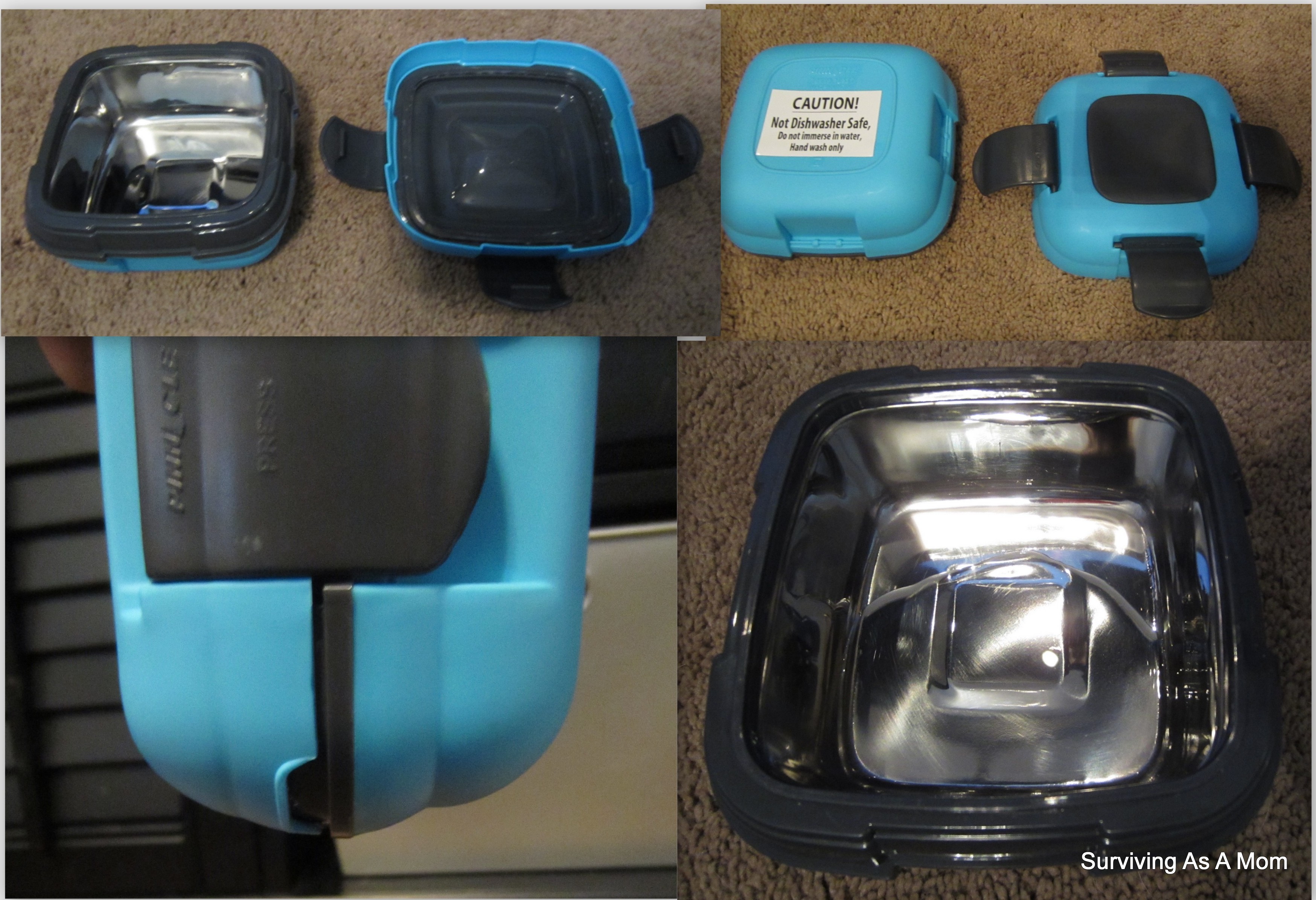 I got this with the intention of using it when my son starts eating lunches at school next year.  It holds 16 oz. (which is 2 cups).  It is a lot smaller in person than what I thought it was going to be.  It is only 5.5"x5.5"x3.5".  I saw a ton of reviews saying that this leaked for them so I decided to put it to the test.  I poured water in this, sealed it, and then kept flipping it over to see if it would leak.  I never had any leaking which I was very pleased about.  I was going to use this when I pack meals for P when we went places but after I saw the bottom that said Not Dishwasher Safe and Do Not Immerse in Water that changed my mind and I do not want to use something that is going to take that much maintenance.  I like easy and quick and trying to remember how to wash this is not going to be quick or easy.  Maybe it would be better for adult meals.  The Pinnacle Insulated Leak Proof Lunch Box for Adults and Kids is $13.99 on Amazon.com.  #ThermoLunchBox
I was chosen to review these baby products through Tomoson.com.  Basically how it works is you select items you would like to review and if they chose you, the product is purchased through Amazon.com.  If you have a Prime Account with Amazon shipping is free and a coupon code is provided from the company making the product free or highly discounted.  In exchange they are looking for an honest review on their product.
Disclaimer: I have never claimed to be any great writer. So any mistakes that are made are my fault. Sometimes I mix up names B, S, and P, but I think you can figure out who I am talking about. If you find any grammatical errors just fix it in your mind so it sounds right.