April 26, 2016
Comments Off

on This Week's New Baby Products
Disclaimer: I received this product for free or highly discounted in exchange for an honest review. All thoughts and opinions expressed are mine.
Just as I think I have found the newest and latest baby products more and more keep coming out. Here are just a few that I have come across this week.
Itybity Silicone Pacifier Clips-Pack of 2
As you may know by now I am a huge pacifier clip fan and love to try all different kinds. My preference is a plastic clip because I do not have to worry about my child chewing on metal. This pacifier clip can also be used as a teether because it is made up of silicone beads and a star or bow depending on whether you get the boy or girl set. There is a knot between each bead in the event that it would break to help prevent choking hazards. The pacifier clip can also be used to attach toys or a sippy cup to something. I use them to attach sippy cups to P's stroller so she doesn't throw them or lose them. When she was younger I used to add them to hold toys when she would lay under her jungle gym for extra stimulation. I am not sure about the silk thread that holds all the beads, so I am reserving judgment to see how it holds up. The Itybity Silicone Pacifier Star Clip is $15.47 and the Bow Clip is $14.97 on Amazon.com. #pacifierclip
I always loved the idea of using cloth diapers but could never bring myself to actually do it. I don't mind the pee diapers, but wanted nothing to do with the poop diapers and having to wash them in my washer. I got sent one to review and after looking it over I may use it. Now that P is older and we are thinking about potty training I think this may be the perfect solution for nighttime. I won't have to worry about wasting disposable diapers for nothing. This set comes with four cloth diapers with bamboo lining and 5 layer bamboo inserts. With all the snaps it make the diaper adjustable to the size needed for your child. The Angelic Cloth Diapers Set is $36.87 on Amazon.com. #Angelicware
Birch Safety Child Cabinet Locks for Baby Safety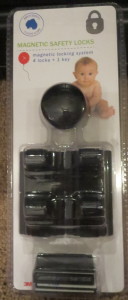 Cabinet Locks are a necessity with any toddler. Mine in particular likes to investigate everything and get into everything. I needed to install locks to keep her out of the cabinets that hold glass and the cabinet under the kitchen sink. I don't really care for the locks that can be seen on the outside of the cabinet so these locks were perfect. The locking mechanism is inside the cabinet and with a really strong magnet (provided) it unlatches the cabinet. I keep the magnet on the refrigerator so I always know where it is at. The Birch Safety Cabinet Locks for Baby Safety is only $19.88 on Amazon.com. #BirchSafety
Purple Safety Baby Digital Thermometer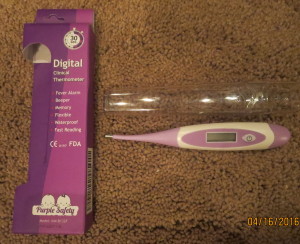 It always seems when you need a thermometer there is never one handy. With these little thermometers I always keep one in my diaper bag. They are small enough they do not take up a ton of space and are easy to use. With this thermometer you get a reading in 30 seconds. It has a flexible tip so I no longer have to worry about stabbing my daughter in the armpit when I am trying to get her temperature and she is squirming. I love that it is waterproof just in case my little one should get a hold of it and throw it in a bathtub or sink. The thermometer also has a fever alarm that will sound if the temperature is 100°F or higher. The Purple Safety Baby Digital Thermometer is $16.45 on Amazon.com. #promotion
I was chosen to review these baby products through Tomoson.com. Basically how it works is you select items you would like to review and if they chose you, the product is purchased through Amazon.com. If you have a Prime Account with Amazon shipping is free and a coupon code is provided from the company making the product free or highly discounted. In exchange they are looking for an honest review on their product.
Disclaimer: I have never claimed to be any great writer. So any mistakes that are made are my fault. Sometimes I mix up names B, S, and P, but I think you can figure out who I am talking about. If you find any grammatical errors just fix it in your mind so it sounds right.