September 21, 2016
Comments Off

on This Week's New Baby Products
Disclaimer:  I received this product for free or highly discounted in exchange for an honest review.  All thoughts and opinions expressed are mine.
Just as I think I have found the newest and latest baby products more and more keep coming out.  Here are just a few that I have come across this week.  It has been a few weeks since I have done baby product reviews.

Now that I have had two kids I know what I like in a diaper bag and what I don't like.  I don't need a crazy diaper bag with all the bells and whistles.  Because really you never end up using any of it.  I need a bag that zips closed on top, has a few pockets to separate toys, diapers, toiletries, clothes, etc.  This diaper bag is perfect.  There is an adjustable stroller strap so I can hang it off my stroller, and eight pockets throughout the bag which is perfect to fit what is needed.  The Bambini & Me Diaper Bag is $29.97 on Amazon.com.  #BMEDiapeBag
Roscoe Learning 124 Piece Magnetic Numbers and Counters Math Skills Set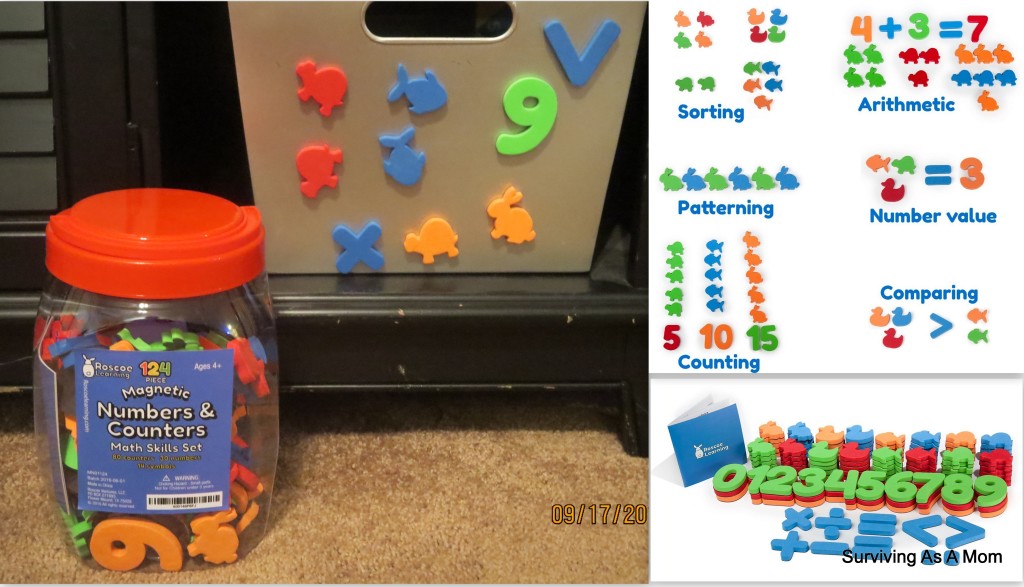 I love to have magnetic alphabet letters for P to play with.  What I really wanted for P was numbers so we could work on counting.  This set of magnetic numbers and counters is perfect to try to teach her the basic skills of counting.  With having animal shapes to count and them being different colors I think we can work on her colors and numbers all at the same time.  I was surprised to see how well these worked to integrate into S's math skills.  This has worked out great for not only working on addition and subtraction but also for fractions.  Who knew I could use this for two totally different ages in two different ways and they both learned?  The Roscoe Learning 124 Piece Magnetic Numbers and Counters Math Skills Set is $12.64 on Amazon.com.  #roscoelearning

P loves to carry around bags of any kind.  She carries her shopping cart cover when it is folded up because she thinks it is a bag.  When I saw this owl bag I thought it was perfect for her to put her little trinkets and binky in to take with her.  The opening is small so it is hard for me to get my hand inside, but perfect for P.  She reaches right inside with no problems.  This bag is petite and works great for her to carry and not drag on the ground.  The Sleepy Owl Handbag by Sarah & Victoria is $18.95 on Amazon.com.  #sleepyowl

I love bandana bibs and only wish I had discovered them earlier.  Bandana bibs are like the answer to fashion bibs.  They are cute, coordinate with outfits, and yet still serve a purpose of keeping the baby dry.  The bibs have a fleece lining on the back to keep the moisture off the baby, and a soft cotton top to match outfits.  The bibs come in a 6-pack and each bib has a different design on the bib.  They are all so different yet I love every pattern.  The Baby Bandana Drool Bibs by The Winking Star, 6-pack is $19.97 on Amazon.com.  #TheWinkingStar
I was chosen to review these baby products through Tomoson.com.  Basically how it works is you select items you would like to review and if they chose you, the product is purchased through Amazon.com.  If you have a Prime Account with Amazon shipping is free and a coupon code is provided from the company making the product free or highly discounted.  In exchange they are looking for an honest review on their product.
Disclaimer: I have never claimed to be any great writer. So any mistakes that are made are my fault. Sometimes I mix up names B, S, and P, but I think you can figure out who I am talking about. If you find any grammatical errors just fix it in your mind so it sounds right.