April 1, 2016
Comments Off

on This Week's New Baby Products
Disclaimer:  I received this product for free or highly discounted in exchange for an honest review.  All thoughts and opinions expressed are mine.
Just as I think I have found the newest and latest baby products more and more keep coming out.  Here are just a few that I have come across this week.
Liname Girls Pacifier Clips-Pack of 3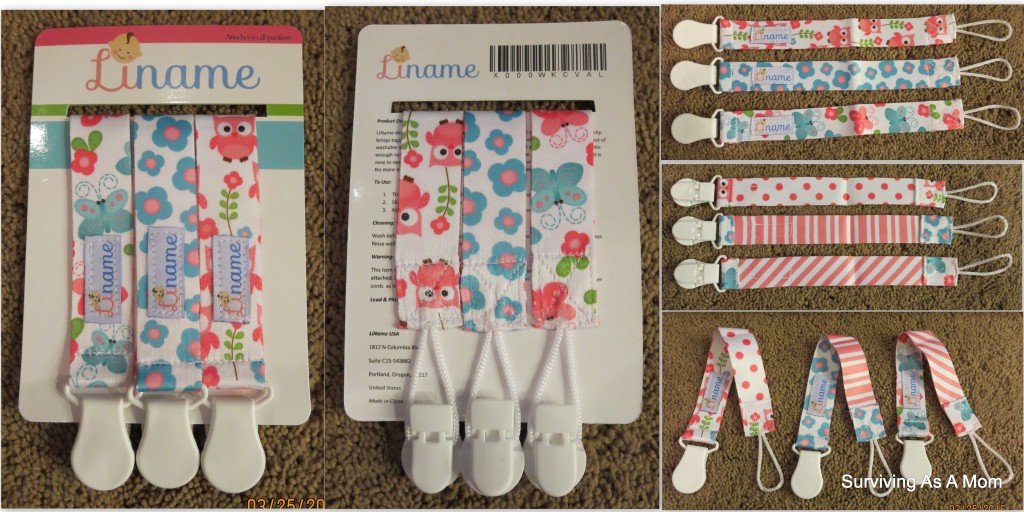 I love pacifier clips and P has gotten so used to them that she will bring you a binky so you can attach it with a clip to her shirt.  These pacifier clips are everything I look for when choosing clips.  I love the plastic clip because it does not leave marks in the clothes and I don't have to worry if P chews on it because it is plastic not metal.  The designs on these straps are adorable.  One strap has butterflies in pink and blue, the second has blue flowers with pink centers, and the third has pink owls.  The pack of each strap is pink in strips or polka dots.  The loop on the end is not elastic, but it was easy enough to loop through the binky.  The Liname Girls Pacifier Clips-Pack of 3 is $12.95 on Amazon.com.  #linamebaby
KiddieBobs Baby Food Storage and Freezer Containers Deluxe Set
I have made my own baby food from the very beginning.  I have also frozen a ton of breastmilk when I was breastfeeding.  I found that if I froze breastmilk it was necessary to have lids so the milk did not take on other taste.  When I made baby food I found that I only did one vegetable or fruit at a time so they did not take on each other's taste.  With the KiddieBobs Baby Food Storage and Freezer Containers this fixes the issues I had when freezing homemade baby food.  It comes with a sealable lid so I do not have to worry about flavors transferring.  Because they are silicone molds the food easily pops out in cubes when it is frozen to be stored in bags.  I also like the idea of serving meals in the containers.  I can put many different foods all in their own compartments and not mixing them giving a variety at mealtime.  The container makes it very easy to take some frozen cubes and put them in the mold to melt to serve for meals the next day.  The heat-sensing spoons have come in handy so I do not have to worry about giving my little ones food that is too hot.  Even though P is older it still helps to know she is not eating food that is going to burn her mouth.  The KiddieBobs Baby Food Storage and Freezer Containers Deluxe Set is $29.95 on Amazon.com.  #KiddieBobs
Kitchen Essentials Silicone Egg Poachers-4 Pack
While these are used to poach eggs in the microwave I have found other uses for them that works for us.  I have used these to give P her snack.  They are very easy for her to hold in her palm.  With the sides higher it holds Cheerios, waffles torn in pieces, and more.   I also like to use them to warm up food for P in the microwave.  Most baby bowls are not microwave safe, but these are.  I have on occasion used them to melt chocolates when I am making desserts.  Because they are soft it was very easy to pour out of the containers into the molds.  The Kitchen Essentials Silicone Egg Poachers-4 Pack is $8.95 on Amazon.com.  #EggPoacher
I was chosen to review these baby products through Tomoson.com.  Basically how it works is you select items you would like to review and if they chose you, the product is purchased through Amazon.com.  If you have a Prime Account with Amazon shipping is free and a coupon code is provided from the company making the product free or highly discounted.  In exchange they are looking for an honest review on their product.
Disclaimer: I have never claimed to be any great writer. So any mistakes that are made are my fault. Sometimes I mix up names B, S, and P, but I think you can figure out who I am talking about. If you find any grammatical errors just fix it in your mind so it sounds right.