August 15, 2016
Comments Off

on This Week's New Baby Products
Disclaimer:  I received this product for free or highly discounted in exchange for an honest review.  All thoughts and opinions expressed are mine.
Just as I think I have found the newest and latest baby products more and more keep coming out.  Here are just a few that I have come across this week.  I cannot believe but I didn't have any baby stuff last week that needed reviewed.  What a nice little break it was!  This week I have a ton of new stuff!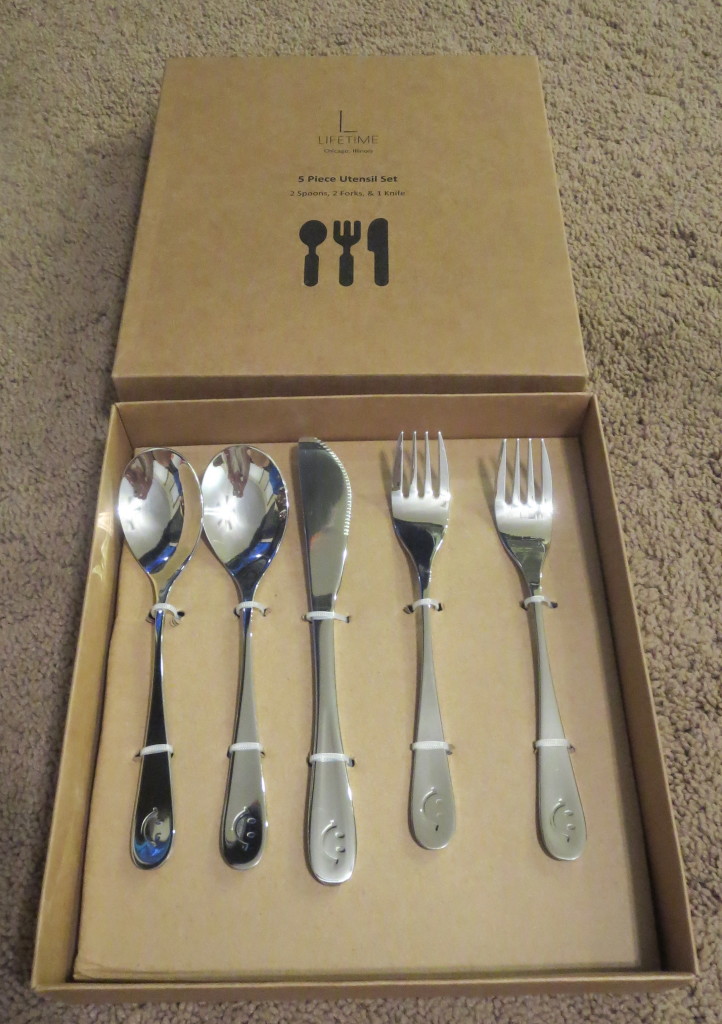 I was looking for a set of utensils for S that would help graduate him to regular forks and spoons that B and I use.  This set is the perfect size.  They are bigger than the toddler forks and spoons but not yet the regular size yet.  With the entire utensil being metal with no plastic handles it will help S to get used to holding onto something skinnier when he is eating.  The utensils are dishwasher safe making it easy for S to take care of himself.  The Stainless Steel Kids Utensil Set-5 piece by Life Time is $19.99 on Amazon.com.  #Lifetime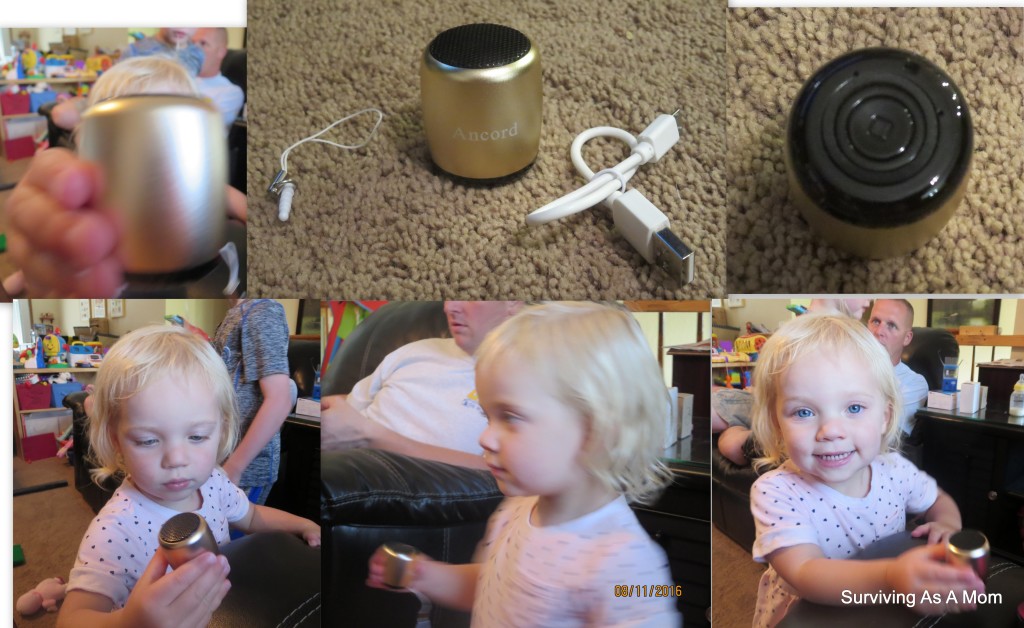 When I saw this small little Bluetooth speaker I thought it would be perfect to use when I am pushing P on our walks or riding bikes with her.  It is small enough that it does not take up much space but it does give off quite a loud clear sound.  There is a small cord that I can attach to the speaker and then plug it into the earphone input on my phone to keep the two connected.  I love that it helps so I don't have to worry about dropping the small speaker.  P carried it around in the house with her and listened to music that was coming from my phone.  She managed to walk about 25 ft. from the phone before the speaker started cutting in and out.  The Small Bluetooth Speaker Portable by Ancord is $19.98 on Amazon.com.  #smallspeakergold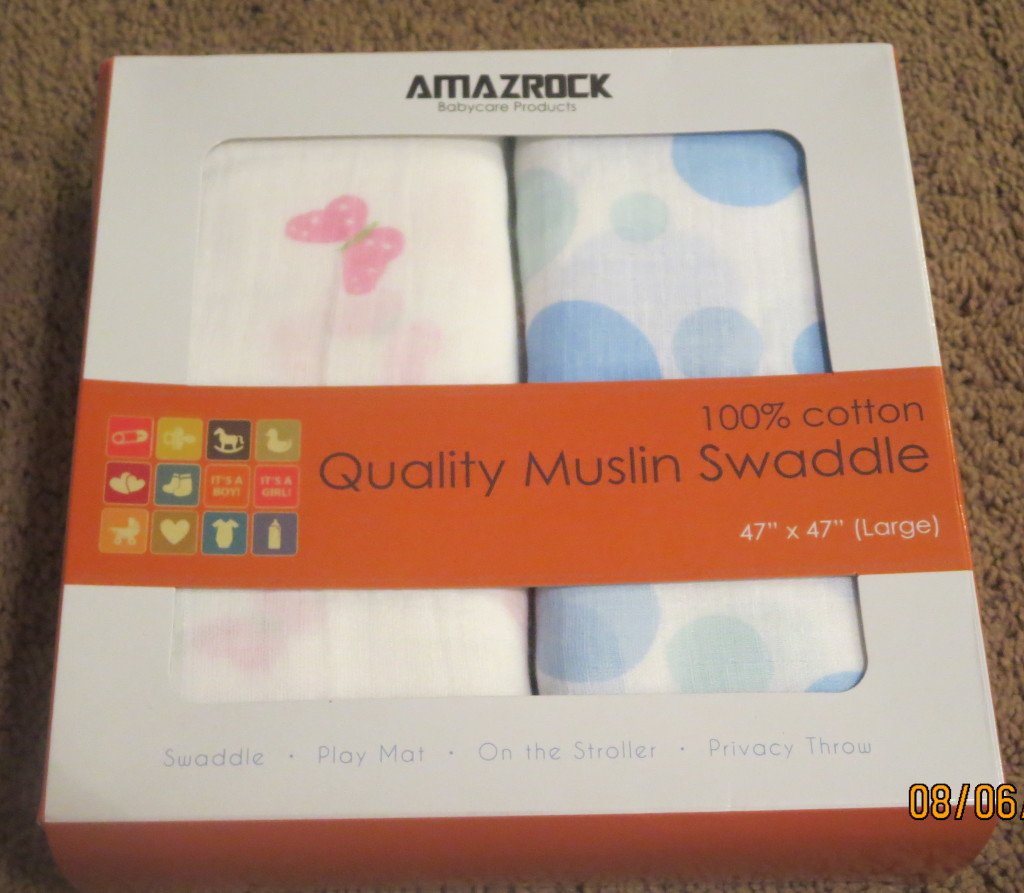 Muslin blankets are really popular right now.  They were not around when S was a baby and not nearly as available when P was a baby.  These blankets are perfect for these hot summer days we have been having.  The cotton muslin material is lightweight, soft and breathable helping air circulate around the baby's body and prevent overheating.  The open weave, ensures the fabric breathes.  Even though the blanket is thin it is made with 40s combed yarn compared to carded yards giving it a smoother and stronger weaving.  Combed yarn is more costly than carded yarn because combing is extremely time intensive.  This two pack of blankets are large at 47"x47" each.  The patterns on the blanket look they are for one boy and one girl with pink and green butterflies and bugs on one blanket and blue polka dots on the other.  They could easily both be for girls but I don't see using the pink and green butterflies and bugs blanket with a boy.  The Amazrock 100% Cotton Muslin Swaddle Blankets 2-pack is $19.99 on Amazon.com.  #AmazrockMusinSwaddle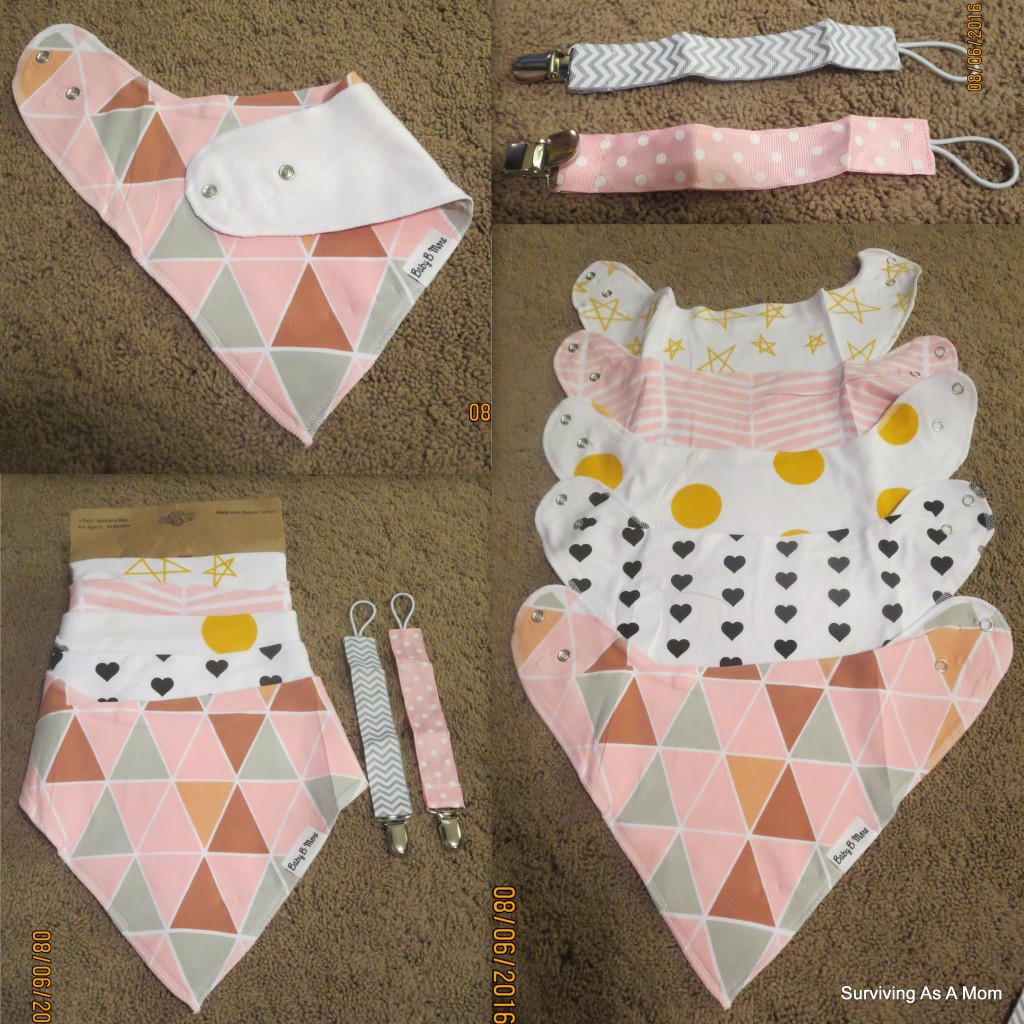 I am a huge fan of bandana bibs.  I wish they were around when both of my kids were little, but they have only recently become popular.  I am sure to include bandana bibs with every baby shower I give.  The patterns on these bibs are so cute.  They do not scream girly which is what I prefer.  They have a classic girl style to them.  I love the two coordinating pacifier clips that are included with this combo pack.  Because the clips are made of metal I prefer to clip them to the bibs so I do not have to worry about them damaging the baby clothes.  The Baby Bandana Bibs for Droolers Combo Pack by Baby B More Blush and Gold set is $16.95 on Amazon.com.  #CuteBabyBibs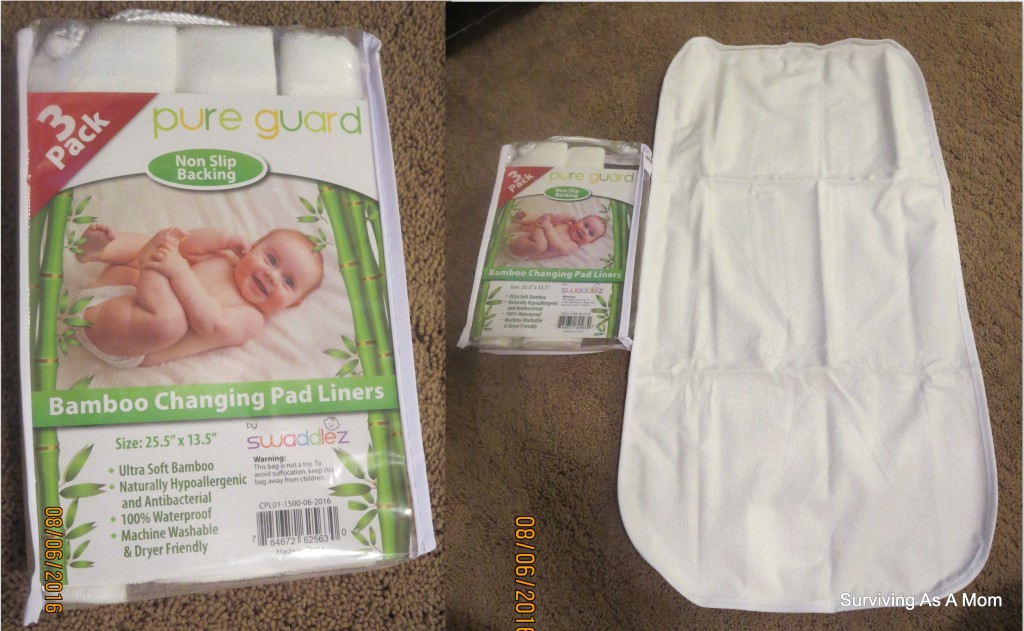 The importance of using changing pad liners is not always known to first time parents until they have had a baby for about a week.  Changing pad liners make it so much easier when it comes to changing diapers.  Instead of having to change a changing cover you can easily change out the liner when it gets dirty enabling the cover to last just a little longer.  The Swaddlez changing pad liners are made of bamboo viscose fabric that is soft to the touch.  Because the material is bamboo it is waterproof, antibacterial, and hypoallergenic.  The Swaddlez Waterproof Baby Changing Pad Liner, 3-pack is $19.97 on Amazon.com.  #Swaddlez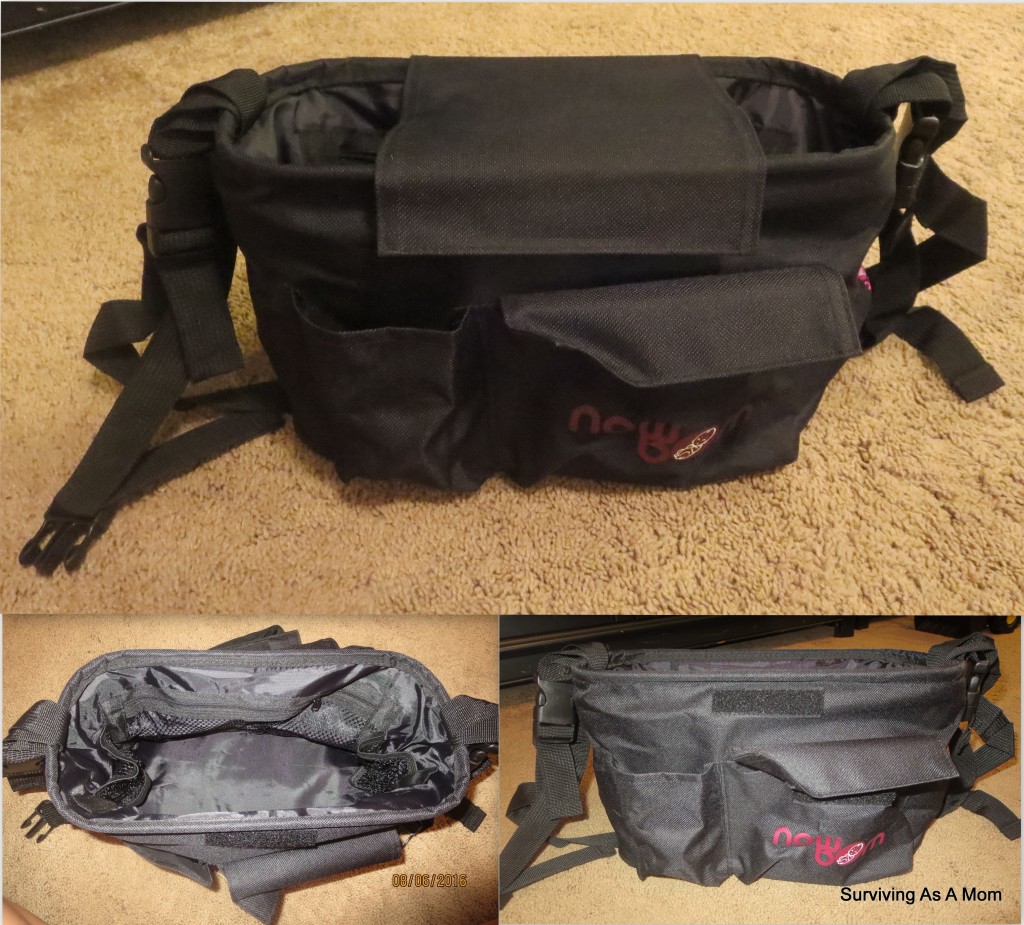 Although most strollers come with storage compartments for parents they are not usually enough.  Being a mom I always needed more room than what was given.  I love using stroller bags and love to give them as baby shower gifts.  It is something that most new moms do not think about registering for and second time or more moms do not usually get for themselves if they did not have it with their first.  I was one of those moms until I got one and realized what I was missing out on when S was a baby.  The stroller organizer bag gives more room to hold extra drinks, supplies, even a diaper and some wipes.  I love how this organizer hangs from the stroller handles but also has a long strap so I can detach it and take it with me if we park the stroller somewhere or if I need to change a diaper.  With smaller compartments I am able to store money and keys without having to worry about losing them.  The Stroller Organizer Bag by Now Born is $19.97 on Amazon.com.  #NowBornBag
I was chosen to review these baby products through Tomoson.com.  Basically how it works is you select items you would like to review and if they chose you, the product is purchased through Amazon.com.  If you have a Prime Account with Amazon shipping is free and a coupon code is provided from the company making the product free or highly discounted.  In exchange they are looking for an honest review on their product.
Disclaimer: I have never claimed to be any great writer. So any mistakes that are made are my fault. Sometimes I mix up names B, S, and P, but I think you can figure out who I am talking about. If you find any grammatical errors just fix it in your mind so it sounds right.