June 29, 2016
Comments Off

on This Week's New Baby Products
Disclaimer:  I received this product for free or highly discounted in exchange for an honest review.  All thoughts and opinions expressed are mine.
Just as I think I have found the newest and latest baby products more and more keep coming out.  Here are just a few that I have come across this week.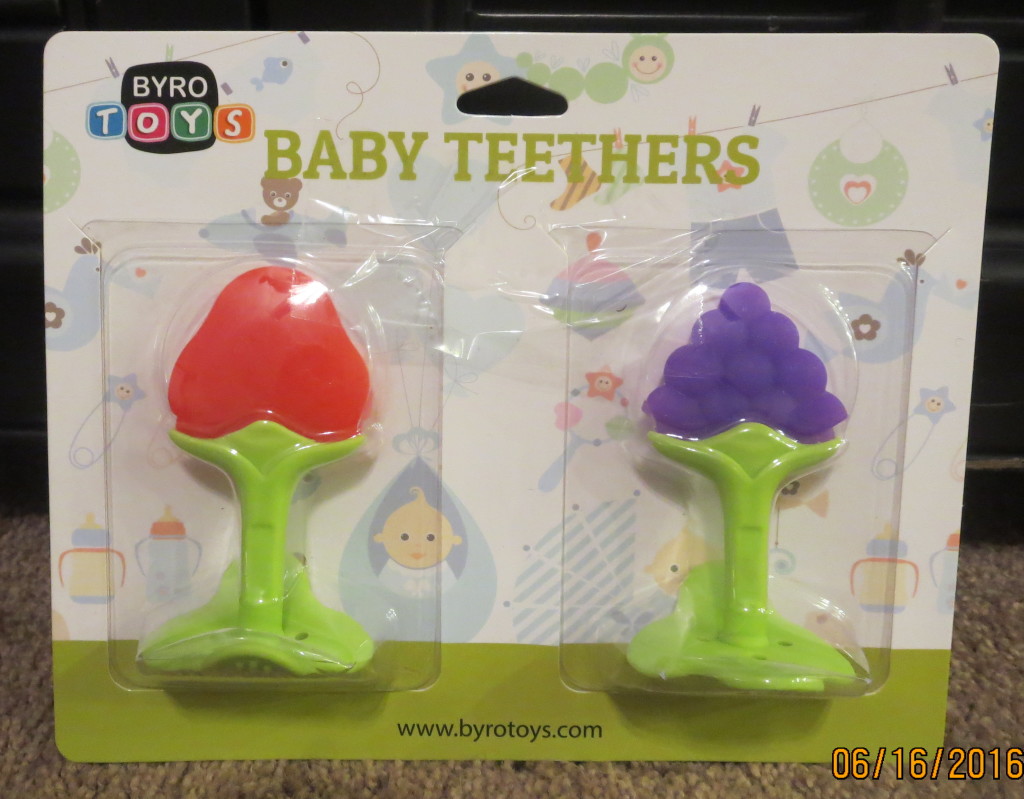 Baby teething toys are a necessity when babies start teething.  When those gums start getting sore and the drool starts teething toys are a great thing for babies to gnaw on and help soothe there gums.  These cute teethers have an easy to grip handle for tiny little hands and fruit for them to stick in their mouth.  The fruit is small enough so that it is manageable for any small baby and is easy to wash because it is dishwasher safe.  The set comes with strawberry and a grape teether.  The BYRO Fruit Teethers Baby Toys is $9.95 on Amazon.com.  #teether
Tommy Raz Bandana Drool Baby Bibs 4-pack, Classic Set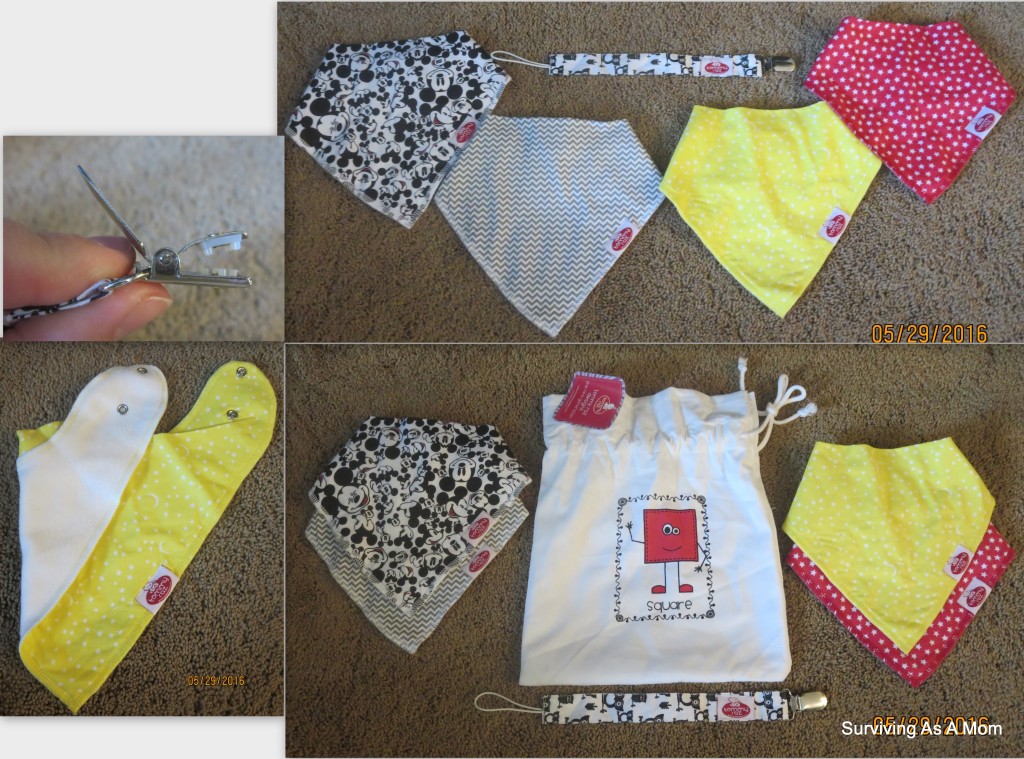 As everyone knows I love bandana bibs and love to give them as gifts.  I have loved putting them on P when she was teething/drooling.  Occasionally I still put one on her when she gets in her spitting moods.  When I opened this set I was super excited to see the Mickey Mouse bib.  P loves Mickey and Minnie Mouse so this was a win for both of us.  She was happy to wear the bib and I was happy to put it on her so she would not get her outfit wet when she was spitting.  (A nasty habit I don't want her to get.  She currently does it because she gets a reaction out of me when she spits.)  The bibs have a soft cotton front with a fleece backing to keep the moisture away from the baby and clothes.  This set also came with a bonus pacifier clip that was black and white with owls on it.  The Tommy Raz Bandana Drool Bibs 4-pack, Classic Set is $14.95 on Amazon.com.  #bandanadroobibs
Buttons Diapers Medium Wet Bag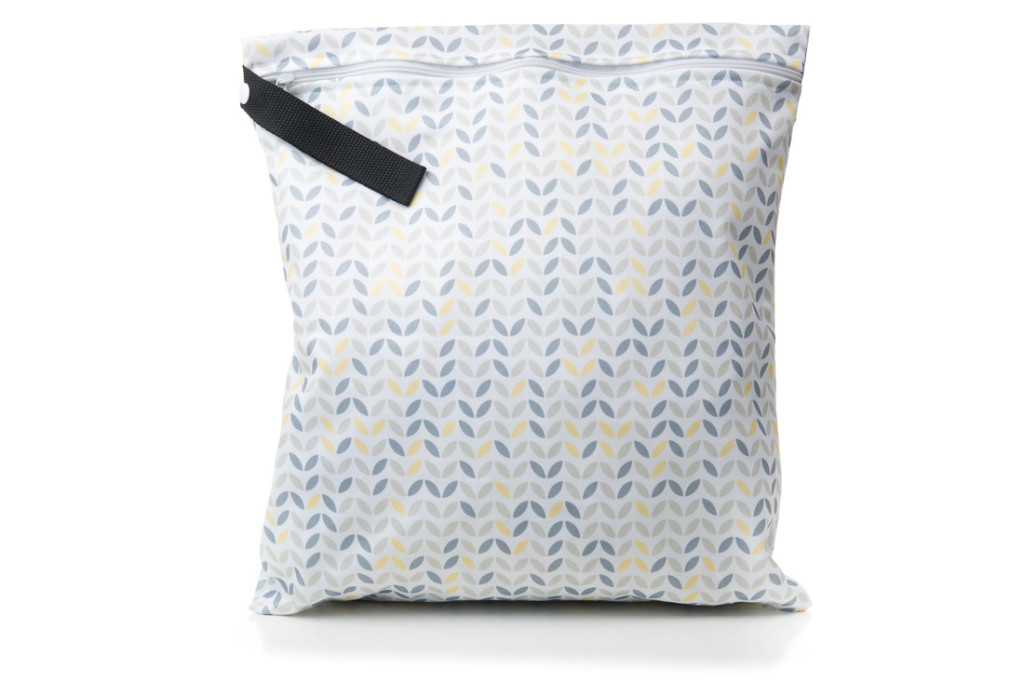 Wet bags are usually made to hold soiled cloth diapers and inserts.  The bags interior is sewn with rolled seams to prevent leaks and keep odors in.  These bags work for clean or dirty clothes in addition to kid's swimsuits or general diaper bag organization.  Each bag has a strap for hanging from a stroller, doorknob, or hook.  I plan on using the bag to store all the wet swimsuits after swim lessons.  Since I change the clothes out of their swimsuits when they are done with lessons and playtime I need something to put them in so they do not get everything else wet.  This bag is the perfect size at 13.5"x14.5" to hold S and P's swimsuits.  When I get home I grab the bag to hang the wet swimsuits and turn the bag inside out to dry it with the swimsuits.  The Buttons Diapers Medium Wet Bag come in three different prints Afternoon Tea (floral), Charming (stripes), and Meadow (leaves).  The medium bag is $10.00 on ButtonsDiapers.com.  #buttonsdiapers
Chew-Choos 'Cutie Pie' Silicone Teething Necklace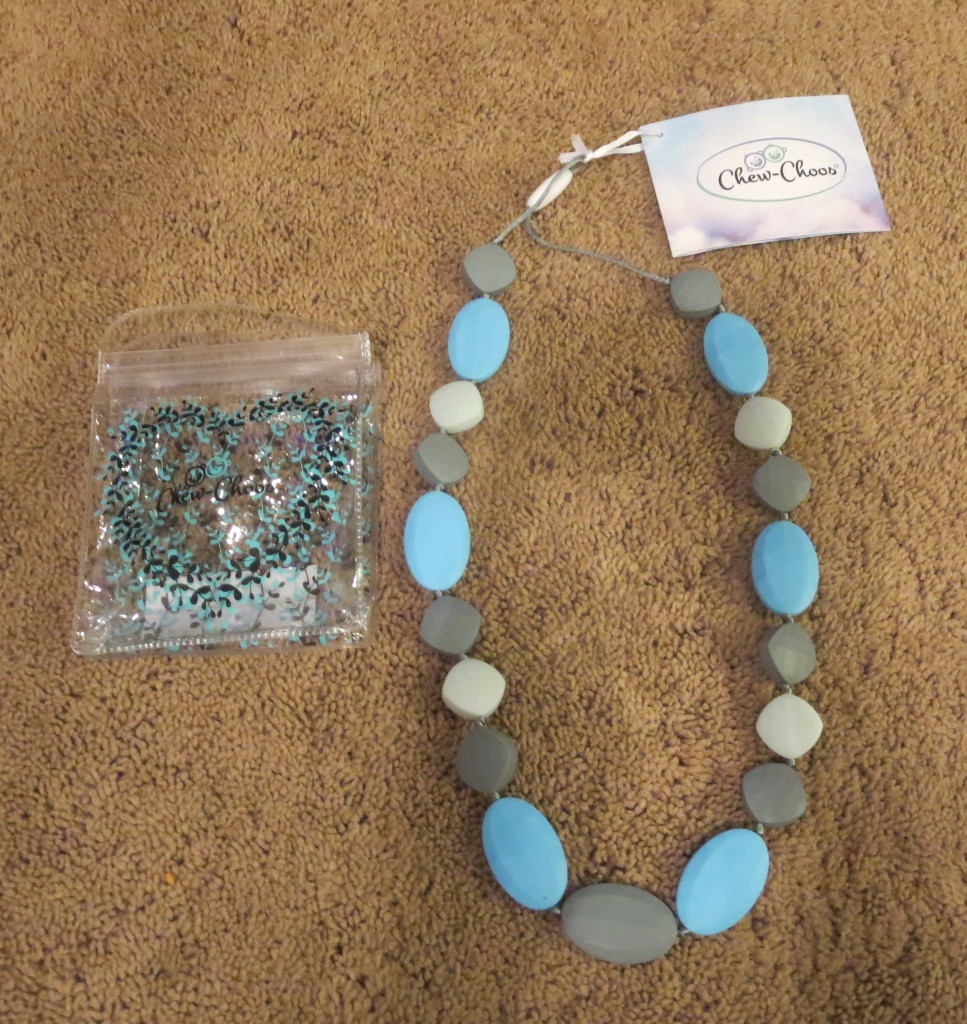 Teething Necklaces are a new and great idea for any mom with a teething child.  The necklace can be worn by the mother to add a stylish accent to her outfit and at the same time help soothe a baby who is teething.  I really liked using the teething necklaces when I needed something to keep P occupied.  If I wore a necklace that matched my outfit it gave something for P to play with and chew on at the same time.  Because I was wearing it, I was able to keep P close to me and out of trouble.  The Cutie Pie necklace comes in 6 different colors: Navajo White, Midnight Black, Tropical Teal, Gray Clouds, Gossamer Dream (pink, white, & gray), and Blissful Blue (white, gray, & blue).  I chose the Blissful Blue necklace because it came with three different colors which give me a greater selection of outfits I can wear it with.  The Chew-Choos 'Cutie Pie' Silicone Teething Necklace is $21.95 on BabyPinch.com.  #cutiepie
Waterproof Crib Mattress Protector Pad Sheet Cover by Busfro Brand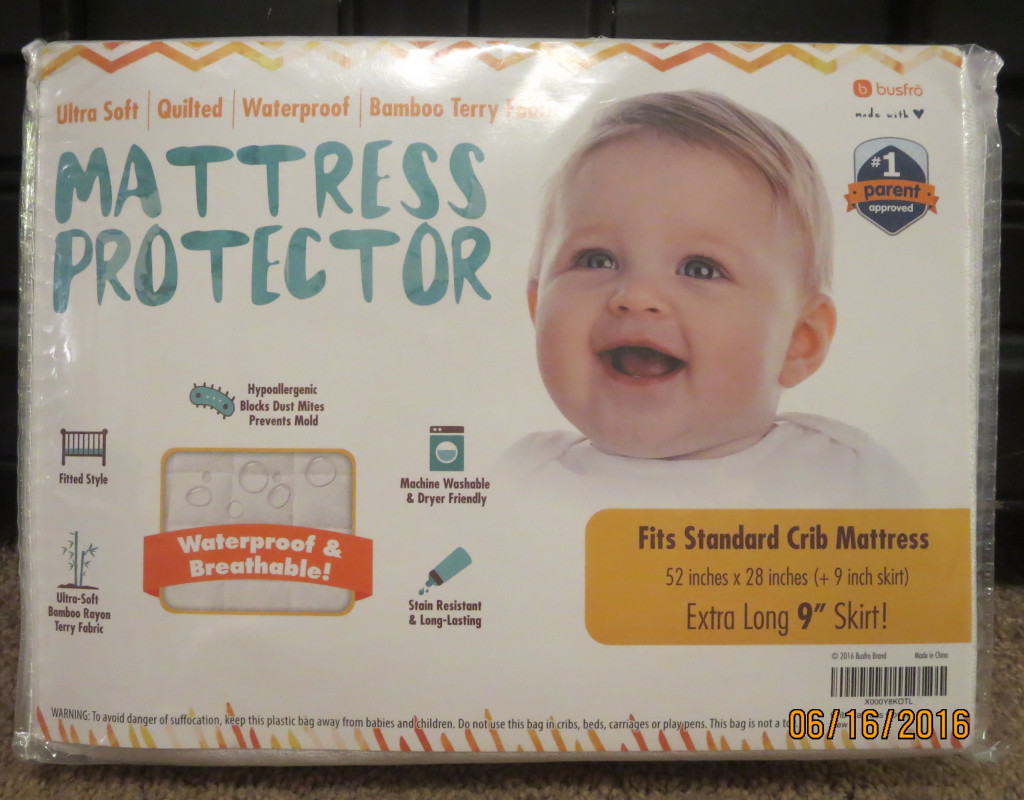 Crib mattress protector pads are a must for every mom.  It makes life so much easier when a baby gets a leaky diaper or spits up in the bed to save the mattress.  The protector pad and sheet are removed from the bed and can be replaced with clean ones without damaging the mattress to ensure it lasts a long time.  The Waterproof Crib Mattress Protector Pad Sheet Cover by Busfro Brand is $19.99 on Amazon.com.  #BusfroBrand
Baby Pinch Boutique Fine Bamboo Spoon Gift Set in Keepsake Box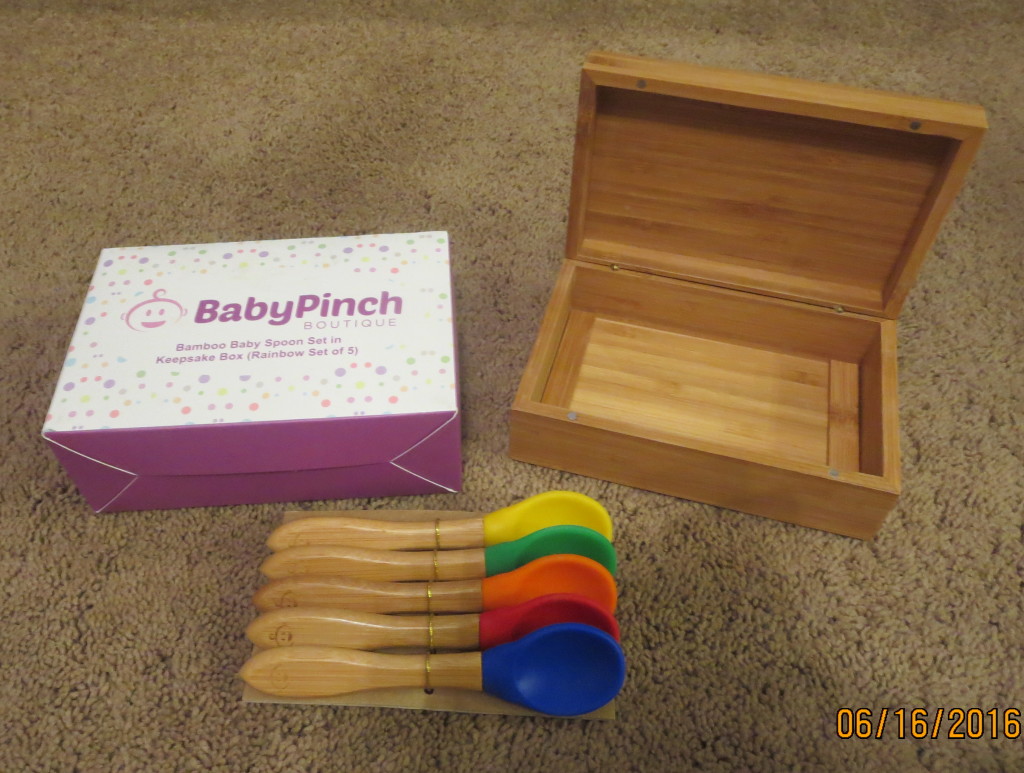 P loves to feed herself and refuses to let anyone help her.  The problem with that is she has small hands and needs spoons with small handles and bigger spoon head so she can get the amount of food she wants in each bite.  These spoons are exactly what P needs.  The handles are made of bamboo wood with silicone spoon heads.  She loves eating with them.  This set has five spoons in it each with a different color of silicone spoon head.  The silicone heads are dishwasher safe but the handles can only be washed by hand.  The silicone heads are easy to remove and put back on the handle.  It is hard enough to do that P cannot (or hasn't figured it out yet) take them apart.  The Baby Pinch Boutique Fine Bamboo Spoon Gift Set in Keepsake Box is $19.99 on Amazon.com.  #bamboospoons
I was chosen to review these baby products through Tomoson.com.  Basically how it works is you select items you would like to review and if they chose you, the product is purchased through Amazon.com.  If you have a Prime Account with Amazon shipping is free and a coupon code is provided from the company making the product free or highly discounted.  In exchange they are looking for an honest review on their product.
Disclaimer: I have never claimed to be any great writer. So any mistakes that are made are my fault. Sometimes I mix up names B, S, and P, but I think you can figure out who I am talking about. If you find any grammatical errors just fix it in your mind so it sounds right.