April 6, 2013
Comments Off

on Target Finds and Deals
I went to Target today hoping that the Easter had gone down to 90% off.  To my dismay, it was still at 70% and yes I scanned random Easter stuff but it all still rang up 70% off.  I talked to a worker who was cleaning up the Easter stuff and just wanted to make sure they were not getting rid of it before it went 90%.  She said she was just condensing and cleaning it up but did not know when it was going to be 90%.  I'm checking again tomorrow.  I spent just under $3 on all of this.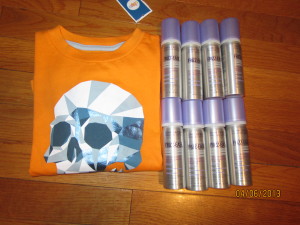 I found another shirt for S, and we saw this shirt on Thursday and didn't get it. Since it was still there today I figured it was kissmate and got it for $2.40.

I saw this deal on www.totallytarget.com for the John Frieda Frizze Ease Curling Revitalizer Mousse travel size.  There is a coupon for John Frieda hair products $3/2 excludes travel size items 1.5 oz or less (Exp4/10).  This mousse is 2 oz and just makes it.  They were $1.47 a piece so I followed the coupon policy and only used 4 coupons and got 8 bottles.  I have 4 more coupons to use tomorrow.  Not sure what I am going to do with this, I may try it, give it to my sister, or donate it.
Awesome finds today!!!
Disclaimer: I have never claimed to be any great writer. So any mistakes that are made are my fault. Sometimes I mix up names B, S, and P, but I think you can figure out who I am talking about. If you find any grammatical errors just fix it in your mind so it sounds right.