May 31, 2013
Comments Off

on Target Clearance Finds
[adsenseyu2]
I went on my weekly trip to Target and found some great finds this week.  I didn't get a ton of stuff, but what I got, I got at a great price.
The Fruttare popsicles are brand new so some great high value coupons were released.  They were on sale 2 for $6, so $3 a box.  I had a Target coupon for $1 off a box and a manufacturer coupon for $1 off.  So one box costs me $1 and the other box only cost me $.50, because I had another manufacturer coupon for $1.50 off and the Target coupon for $1 off.  B got a free box from Krogers and told me if I could find them cheap to get more because he loved them.  Well I found them, and got him two more boxes.  He was very happy to see them.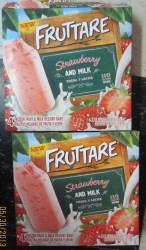 I got 4 bottles of baby hair detangler with a Target coupon that was $2/2 baby products.  The detangler was $1.34 for each bottle.  So I got the four bottles for $.34 each.  I use detangler on my hair after I go swimming in a pool or lake so this was a great find.  I know my nieces will appreciate these, too.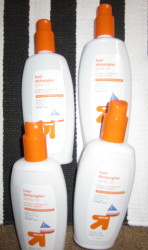 I have been watching these dog bed covers since they went on clearance for 30% off.  Basically a duvet cover for a dog bed.  If these work and wash up well it will be so much cheaper and easier than trying to wash PJ's dog beds.  I think there are at least 8 beds down in the basement that need washed, but it is just too hard to wash then in a regular washer, so B wants to powerwash them.  How much easier will it be if the covers actually work.  The four of these at $4.18 each is cheaper than one of PJ's dog beds.  This could be a great investment.  Only time will tell.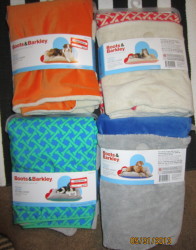 I found this rug for $4.48 and thought this would make a great addition to my black, white, and silver bathroom I am working on.  It goes well with the other rug and shower curtain I was able to get on another one of my Target outings.  Click

here

to see the rug and curtain.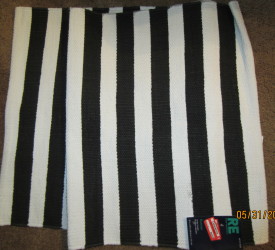 Not bad for a quick trip to Target.  I spent about $25 on my trip.  I gotta tell you I love going to Target.  It is a great stress reliever just to walk around and look.  I cannot wait for them to start marking down toys for the big July toy clearance event.  I have my eye on a few things I would to see get marked down.   Guess we will just have to wait and see.
Disclaimer: I have never claimed to be any great writer. So any mistakes that are made are my fault. Sometimes I mix up names B, S, and P, but I think you can figure out who I am talking about. If you find any grammatical errors just fix it in your mind so it sounds right.