August 23, 2013
Comments Off

on Target Clearance Finds
I wasn't going to go to Target this week, but decided to go and return a duvet cover we ended up not using.  I was two days past the return date and could not return it.  Since I was there I figured I mine as well walk around and see if I can find any deals.  Boy did I find some great deals.  I spent $64.40 and was totally happy with what I got.  I got a new pool, a crib bedroom set for my neighbor to give as a gift, a few books, nail polish and swim wear.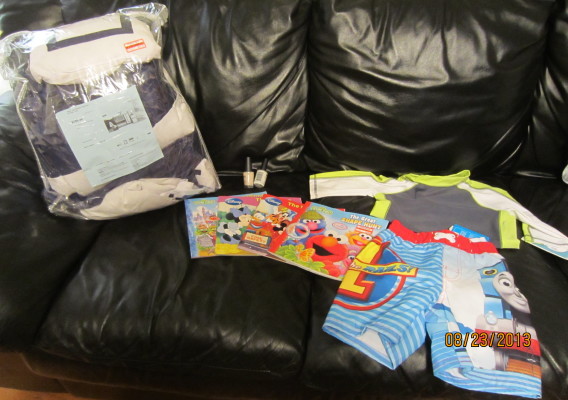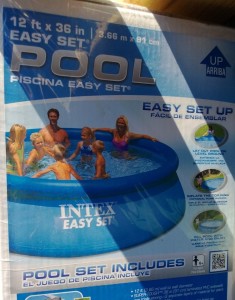 I was checking out all of the summer gear and saw some pools were marked down to 30% off.  Upon closer inspection I saw that all of the pools were 70% off.  The same size of pool that we have in the backyard 10ft x 30in was only $23.98 and the next size up more common 12ft x 36in was 39.98.  B wanted to get the bigger pool so I did.  I think the Easter Bunny is going to give this to S next Easter.  The pool we currently have has lasted four years (they don't usually last more than a year, two max), and has about 20-30 patches, no joke.  When I got home from Target and looked at our pool, the entire top ring was deflated, which means that we have another hole to find and patch.  Oh joy!
The baby bedroom set is a Sweet JoJo design-Hotel Navy  11-piece set.  It was an online return selling online for $189.99, and was marked down to $11.66.  It was missing two pieces which happen to be valances.  No big deal, I never used the valance for S's room.  When I got home I opened up the set and loved what I saw.  The comforter was so soft and silky, the dust ruffle was really nice and had pleated corners for the front of the crib, the little pillow was cute and the fitted sheet was navy.  The other pieces for the room was the diaper stacker, a toy bag (which looked like it could be an organizer for diaper/bath time), and three wall hangings. I loved this set and my neighbor was only too happy to give it to her cousin.  When you think about it, a sheet will usually cost you $10-12 (just this navy sheet cost $18.99 if you bought it separate) and this whole set was only $11.66.  What a great deal.  This will work for a girl or boy, just accent it with other colors.  It creates a great beginning when decorating a baby's room.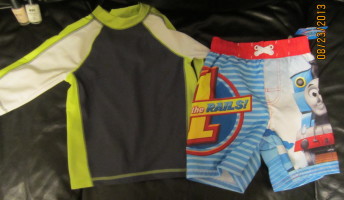 I wasn't so sure about the swim shirt because the sleeves are pretty long, almost a 3/4 sleeve.  It was 70% off and only $3.00, so I thought we could try it.  I have been watching this pair of Thomas swim trunks for a few weeks now.  This is the only pair that my Target had, and just happen to be the size that S will be next year.  I hunted the clearance racks and then the entire department just to make sure that the pair had sold, and the last place I looked there they were.  I must have looked at that rack 3 times before I saw them.  They were 50% off and only $5.  They are going to be perfect for S's Easter basket next year.  I decided every year the Easter Bunny is going to bring a pair of swim trunks.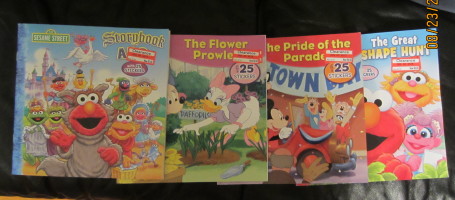 I found these books and thought they cute.  S loves to get new books and each of these books contains 25 stickers.  The books were 70% off and only $.60 each.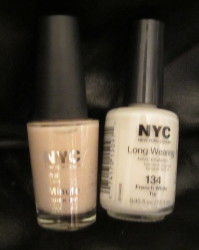 I paid full price for the nail polish, because I needed some new polish for my French manicures.  I have found that the cheap polish last just as long and looks just as good as the really expensive polish.  The white polish was only $.94, and the pale pink was $1.72.
Disclaimer: I have never claimed to be any great writer. So any mistakes that are made are my fault. Sometimes I mix up names B, S, and P, but I think you can figure out who I am talking about. If you find any grammatical errors just fix it in your mind so it sounds right.