[adsenseyu1]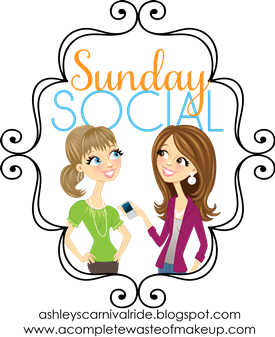 I am linking-up today with Ashley at http://www.ashleylately.com/ and Neely at http://www.acompletewasteofmakeup.com/ for Sunday Social.
How did you come up with your blog name?
No real great story to this, I just tried to think of something catchy that would give an idea of what my blog is about.
What is your favorite thing about blogging?
I would love to say all the money I make and free stuff I get, but that has not happened. Yet, anyways.  One can always hope, right?  I would say my favorite thing is being able to have something that is all mine.  Since quitting my job and staying at home with my son for the past three years I feel that everything is defined through my son.  Now I have something that is once again just mine.  Yes, most of the time I do talk about my son, but because I want to, not because I have too.
What is one thing you have discovered because of blogging and now can't live without?
Subscription boxes and free things.  I have been very good at limiting myself on subscription boxes.  Currently I only subscribe to three, and do not have plans to increase, but love to get free stuff.  I love to hunt for good deals and free stuff.  With blogging it only helps me to find more great deals.  Subscription boxes are definitely a new find since blogging.  If I could order more and B was okay with it, I totally would.
Facebook or Twitter? And why?
I personally do not like either.  I did create a Facebook account for my blog and try to make sure I post on it daily or at least a few times a week.  I do have a personal Facebook account but only to get free stuff and I have no friends. (By choice)
If one celeb read your blog who would you want it to be?
I am not sure what celeb I would love to read my blog.  I think Tori Spelling would be pretty cool, because she tells everyone how crafty and family orientated she is.  If you can believe what you read she is right up my alley.   She did host that really cool craft game show "Craft Wars" on TLC for a while.
What is something you want people to know about your blog?
I'm stumped on this one.  I want to come up with something really catchy to say, but that is not me.  What you see is what you get with a little bite at the end.  Meaning I usually say what I am thinking with a zinger in there somewhere.  If I were trying to be all cute I would say I am a stay-at-home mom of one rambunctious boy who is just trying to figure it all out one day at a time and blogging about it along the way.
Related
Disclaimer: I have never claimed to be any great writer. So any mistakes that are made are my fault. Sometimes I mix up names B, S, and P, but I think you can figure out who I am talking about. If you find any grammatical errors just fix it in your mind so it sounds right.