June 2, 2013
Comments Off

on Sunday Social
[adsenseyu3]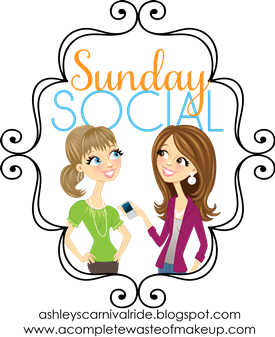 I am linking-up today with Ashley at http://www.ashleylately.com/ and Neely at http://www.acompletewasteofmakeup.com/ for Sunday Social.
What is your favorite Social Media outlet?
None, I am not a fan of any and never have been.  I do not twitter, and only have a Facebook account for my website to post new postings, and a personal Facebook account to get free products.  I literally have no friends on my personal Facebook page.  I never got into MySpace either and hoped Facebook would fade just like MySpace did.  No such luck, yet anyways!
Do you subscribe to daily news reads? If so which ones?
Other than the blogs I get in Google Reader to find free products or to read what other blogs are saying, I would say People.com.  I check it through Google Reader probably 4-8 times a day.  Now I never miss what is going on with celebrities.  I do occasionally check MSN.com to see what is going on in the world.  Are blogs considered daily news reads?
Favorite Magazine to have by the pool?
It used to be People.  I was a weekly subscriber until I quit my job to be a stay-at-home mom, and now it is Women's Day.  Don't get me wrong I love a trashy magazine as much as the next, but only read them if I am in line or they are free.  I currently get US Weekly for free so as of right now that would be my #1 choice.
Favorite Summertime Song?
I don't really have a favorite summertime song.  I would say whatever is playing on my Slacker account.  I have 5 custom stations so I like pretty much everything that plays except for when they try to sneak in a new artist.
Best Summer Concert You've Been to?
Country Concert in Fort Loramie, OH.  It is a three day event and you get to see some of the top country singers.  I am not a drinker so I could do without all of the cat calls from the drunks, but the music and atmosphere was a blast.  I do not like camping so we only ever went once, and would not go back unless it was in a camper with my own personal toilet and shower. (I am not saying this is the best concert ever, just best summer concert)  I would say Lilith Fair came in a close second. (Boy does that age me; some are probably asking what is Lilith Fair?)
Related
Comments are closed.
Disclaimer: I have never claimed to be any great writer. So any mistakes that are made are my fault. Sometimes I mix up names B, S, and P, but I think you can figure out who I am talking about. If you find any grammatical errors just fix it in your mind so it sounds right.