[adsenseyu3]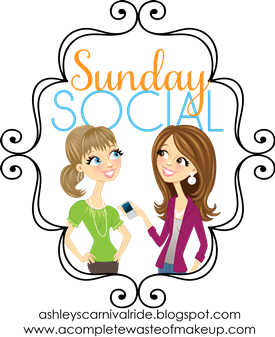 I am linking-up today with Ashley at http://www.ashleylately.com/ and Neely at http://www.acompletewasteofmakeup.com/ for Sunday Social.
What is your favorite kind of surprise?
I am not sure how to answer this.  I love when B does stuff that I know I have to do, but am pleasantly surprised when he does like load or unload the dishwasher, clean the kitchen, run the sweeper. (I only enjoy this when he does it and does not remind me that he did it because of whatever reason.)  To me the little things that help me I guess would be my favorite kind.  Does that make sense to anyone else but me???
Flowers or Chocolate?
I am definitely a flower girl.  I like chocolate but it does nothing for me.  When B and I were dating he used to give me roses all the time.  Everyone would say why spend money on flowers they just die and you forget about them.  Not me I would take a picture of every bouquet so I could scrapbook it and always remember it.  When B and I moved in together and got a cat (aka Neezer) he got me flowers and Neezer discovered a love for flowers or plants in the house and that ended me getting flowers anymore.  That cat would get to them anywhere we put them.  The only place he did not go was on the stove, and who wants to display flowers on a stove?  Now I get flowers to be planted outside.  As long as they are tiger lilies and I do not have to plant them I love it.  (Spoiled much……yup)
What is your favorite summertime activity?
This was a hard one for me.  What do I pick swimming, boat rides, bike rides, relaxing in the shade with a book, sitting by a window with a nice breeze on me (as I am currently doing) or not being cold.  I would have to say all of the above.  I love to be outside and enjoy the weather but am not a fan of the sun.  From getting to many burns as a kid, my skin actually hurts when I am out in the sun.  So if I can find some shade I am all about being outside in a chair, hammock, the pool, etc.  (AS LONG AS I AM IN THE SHADE)
Do you have any vacations planned this summer?
We have a few things planned/semi-planned for this summer.  Memorial weekend we are going to a wedding out of town, so we are going on a long weekend.  We are going to stay by Lake Michigan and do a little sight-seeing.  This will be our first vacation just the three of us, so it will really tell B and me if we would want to do this again or wait until S is older.  We usually go to my brother's cottage around the 4th of July for a big family vacation.  My brother recently purchased a new house, so since he will be dealing with moving and all that comes with a new house I am not sure if we will do the big family vacation this summer.  Who knows what else this summer may entail.  As for now that is all the plans we have.  We are really homebodies and enjoy just staying home.
Favorite Summer Holiday?
I would say 4th of July.  I love to watch fireworks.  It is almost like Christmas as far as festivities.  The 4th of July is a big deal we wear patriotic shirts, eat festive foods, get together with family, and of course enjoy the fireworks.
Dream Vacation?
My dream vacation would be somewhere tropical.  I would say Hawaii is the dream vacation for me.  B and I went there to get married and honeymoon.  The weather when we went was terrible.  It was unseasonably cold and rainy when we went, so it spoiled Hawaii for me as far as a dream vacation.  I would like to have the dream Hawaiian vacation as you would think it is supposed to be like. Nice weather, lush scenery, beautiful sunsets, private villa and beach, and everything else you can imagine.
Related
Disclaimer: I have never claimed to be any great writer. So any mistakes that are made are my fault. Sometimes I mix up names B, S, and P, but I think you can figure out who I am talking about. If you find any grammatical errors just fix it in your mind so it sounds right.