October 27, 2013
Comments Off

on Sunday Social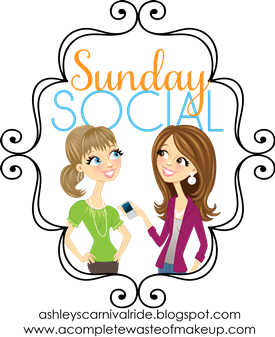 I am linking-up today with Ashley at http://www.ashleylately.com/ and Neely at http://www.acompletewasteofmakeup.com/ for Sunday Social.
What was your favorite Halloween costume as a kid?
I don't really have a favorite costume from when I was little.  I remember most years being a baby.  It was easy and I always had pajamas and pigtails.  Some years I added a rattle or pacifier.  I don't ever remember buying a costume all of ours were always homemade.  One year I was a bunny, white sweatsuit, cotton tail, and bunny ears.  The costumes were always easy and never very elaborate.
If you could go back to your childhood and dress up as something, what would it be?
For me it was never about the costume, it was always about having fun getting the candy.  I never really cared what I was.
What was your favorite Halloween costume as an adult?
I collect pigs (not real ones), so I had some ears and tail in my collection.  I wore a pink fleece top and pants, the tail and ears.  I even had a pig nose.  B went as a butcher.  He wore an apron with some red paint on it and carried a fake butcher knife.  Get it we were the pig and a butcher.
What is your favorite Halloween candy?
I love 3 Musketeers.  I don't really have a favorite "Halloween" candy.
What is your favorite Halloween memory?
I love every year with S.  It has been so much fun to take S trick-or-treating every year since he has been born.  When he was only 10 months old on his first Halloween and could only ride around in his stroller we still had a ton of fun.
What is your favorite scary movie?
Gremlins-I consider this a Christmas movie because it took place at Christmas.  So this is also my favorite Christmas movie.
Related
Comments are closed.
Disclaimer: I have never claimed to be any great writer. So any mistakes that are made are my fault. Sometimes I mix up names B, S, and P, but I think you can figure out who I am talking about. If you find any grammatical errors just fix it in your mind so it sounds right.