October 20, 2013
Comments Off

on Sunday Social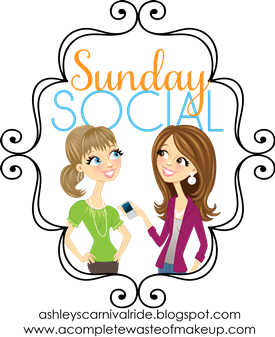 I am linking-up today with Ashley at http://www.ashleylately.com/ and Neely at http://www.acompletewasteofmakeup.com/ for Sunday Social.
This was a stupid week of questions and I really did not want to do them so I am giving simple answers.  I am not one of those people who likes to answer these types of questions.  These are like the questions they ask you when they graduate from high school.  Some may love these questions, but they are not for me.
What do you value most in life?
My family
What do you think is the greatest invention in your life and why?
There are so many things I could say but since I was born I cannot think of one.  For me life was so much simpler before internet, cell phones, and more.  I have not raised my son to be dependent on them, although I know he has to know how to use these things and I do teach him how to use them, it is held to a minimum.  S's first choice is to go outside and play when given an option.  That is what I want an active child not a couch potato.
What do you think is the secret to a good life?
Happiness-I think we all strive to find it every day.
What would you most like to be remembered for when you're gone?
Raising a great kid.
What accomplishment in your life are you most proud of?
S, enough said.
Related
Comments are closed.
Disclaimer: I have never claimed to be any great writer. So any mistakes that are made are my fault. Sometimes I mix up names B, S, and P, but I think you can figure out who I am talking about. If you find any grammatical errors just fix it in your mind so it sounds right.