October 13, 2013
Comments Off

on Sunday Social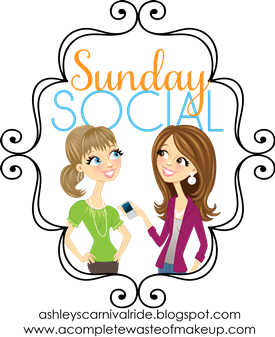 I am linking-up today with Ashley at http://www.ashleylately.com/ and Neely at http://www.acompletewasteofmakeup.com/ for Sunday Social.
I wasn't very excited about the questions this week and thought about skipping it.  But I never skipped a class in college (I may have been late to a few but I always showed up.), and I can't in good conscious skip this week just because I don't like the comments.
What is the first blog you ever followed?
The Krazy Coupon Lady-I found her watching Extreme Couponing on TLC, but the first personal blog I followed would have been Ramblings of a Suburban Mom.  I found her after I saw all the goodies she found last year after Christmas and was highlighted on Hip2Save.
What was your first blog post about?
I have no idea what it was I had to go back and look on wordpress to find it.  The first one I did just said the blog was under construction, in case someone found the site on their own.  My real first post was "My Love with TV" and the list of shows I watch now is so different from them.  That was just a little over 6 months ago when I started this blog.
Who left you your first blog comment?
Again, I had to check on my dashboard in comments to find it.  I have no idea.  I probably should because it's like when you earn your first dollar in your own business.  My first comment I am pretty sure was a spam, but the comment was positive to I approved it.  My first real comment was from Nicole with Keeping Up With The Pruetts.
Who was the first blogger you ever met in person?
I am sure I have met people who blog like I do, but I have never intentionally seeked anyone out who blogs.
What was your first "blogging milestone?"
Getting recognized by a big website, Totally Target!  I loved being recognized for all of the good Easter finds I found last year.
Related
Comments are closed.
Disclaimer: I have never claimed to be any great writer. So any mistakes that are made are my fault. Sometimes I mix up names B, S, and P, but I think you can figure out who I am talking about. If you find any grammatical errors just fix it in your mind so it sounds right.