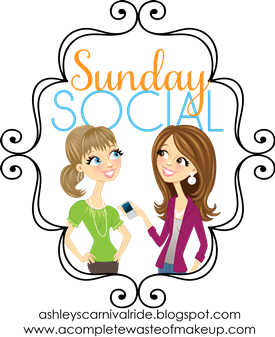 I am linking-up today with Ashley at
http://www.ashleylately.com/
and Neely at
http://www.acompletewasteofmakeup.com/
for Sunday Social.
What is your dream job?
I don't really have a dream job.  I never knew what I wanted to do, and kind of just fell into Human Resources.
If you had just won the lottery and didn't need to work for money, what would you do with your time?
Just relax, once I got caught up on all of my sleep, I think I would like to go on a vacation, and then build the dream house I would love to live in.
What piece of career advice would you give to someone just starting out in your field?
College really taught you nothing to prepare you for HR.  I got all of my knowledge and experience from hands on training on the job, so get ready to learn.  You need to do an internship even if it is unpaid.  It is rare to get a job in HR without experience and the only way to get experience with no experience is with an internship.
What would be your ideal "just for fun" job?
Shopping for others.  I would love to have clients that I just keep on the lookout for items they want and if I find them on my clearance hunts then I have fun shopping, spending someone else's money and getting paid to do it.
What was your first "real" job?
I worked at Lion's Store (similar to Macy's) on their Teen Board doing fashion shows, helping prep clothes for the big wedding fashion show of the year, wrapping presents at Christmas time, and helping in the departments during major events (Back-to-school, Moonlight Madness Sale, Christmas, etc.).
Related
Disclaimer: I have never claimed to be any great writer. So any mistakes that are made are my fault. Sometimes I mix up names B, S, and P, but I think you can figure out who I am talking about. If you find any grammatical errors just fix it in your mind so it sounds right.