September 22, 2013
Comments Off

on Sunday Social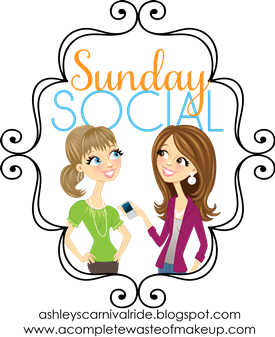 I am linking-up today with Ashley at
http://www.ashleylately.com/
and Neely at
http://www.acompletewasteofmakeup.com/
for Sunday Social.
What is your favorite handbag you've ever owned?
I am so boring.  I have never owned any handbag of significant value.  I just don't care.  To me it is just a bag to carry my stuff in.
What is your dream handbag you lust over?
I don't have any name brand specific.  I would just like a bag that fits all my needs has tons of pockets, zips closed and a few outside pockets for hand sanitizer, and chapstick.  It has to be big enough to hold my wallet, small hand purse, small cosmetic bag, and bag that holds my Nook, phone and camera (electronic's purse).
What are the daily essentials in your purse or work bag?
Nook, phone, camera, chapstick, hand sanitizer, a few toys for S, CREDIT CARDS, and maybe some cash.
What's in your purse (with pictures)?
For a real look at what is in my purse, I emptied it out arranged it neatly on the counter, took a picture and reassembled it organized.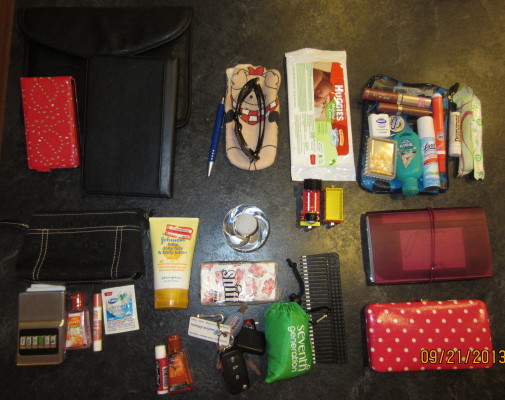 I don't know how to put numbers on my pictures so I will start at the top and go left to right: Electronic clutch (holds Nook, phone, and camera), pen, sunglasses with cover, Huggies wipes, small cosmetic bag (lip gloss, dental floss, Lysol disinfectant spray, Tide to Go pen, Water Sunblock, Dramamine, small deck of cards, rewetting drops for B's allergy attacks, and a few tampons), small purse (credit card holder, cash, hand sanitizer, lip gloss, and tums), S's daily sunblock, chapstick, hand sanitizer, small bottle of water for S, pig tissues, keys, bag for shopping, hair comb, Thomas trains, coupon binder, and wallet (hold other credit cards, cash, receipts.
Related
Comments are closed.
Disclaimer: I have never claimed to be any great writer. So any mistakes that are made are my fault. Sometimes I mix up names B, S, and P, but I think you can figure out who I am talking about. If you find any grammatical errors just fix it in your mind so it sounds right.