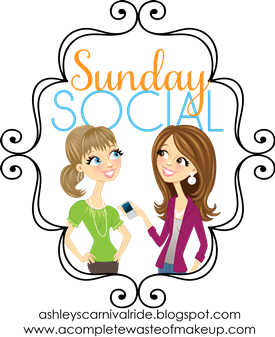 I am linking-up today with Ashley at
http://www.ashleylately.com/
and Neely at
http://www.acompletewasteofmakeup.com/
for Sunday Social.
What is the name of your blog?
What do you love most about blogging?
Being able to share my life and all the good deals I find with others! 
Why did you start blogging?
Since I am a stay-at-home mom, I thought I would try blogging to see if I could make any money.  I thought if I could make this into a career, I could still stay home with my son and also make money.  The best of both worlds.  I also thought it did not have to be all monetary, if I could get companies to want me to review products for them in return getting to keep the products that would be awesome, too.
What is something you'd want to tell someone just starting out in the blog world?
Before you decide to start a blog do your research and see what would work best for you: Blogspot, Blogger, WordPress or others.  Also think about the cost of someone hosting your blog through HostGator, BlueHost, etc.
Biggest blogging learning experience you've had?
It is really difficult to create a following.  I thought family would be the first to help out and like my Facebook page, but that has been far from the truth.  I have more strangers who have liked my Facebook page and follow my blog then I do relatives.  I thought for sure that relatives and friends would like to read the blog to stay in touch with what is going on in our family.  Definitely was/is not the case.
What are three blogs you love?
Whether she knows she is my mentor or not Jen @ Ramblings of a Suburban Mom is my favorite to follow.
Hip 2 Save (That is how I found Jen @ Ramblings of a Suburban Mom)
Related
Disclaimer: I have never claimed to be any great writer. So any mistakes that are made are my fault. Sometimes I mix up names B, S, and P, but I think you can figure out who I am talking about. If you find any grammatical errors just fix it in your mind so it sounds right.