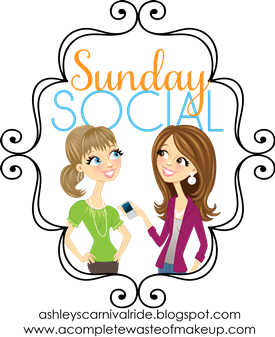 I am linking-up today with Ashley at
http://www.ashleylately.com/
and Neely at
http://www.acompletewasteofmakeup.com/
for Sunday Social.
When you were little what did you want to be when you grew up?
When I was little all I wanted to do was have kids and be a mom.  I did not have any other ideas of what I wanted to be, and let me tell you that never changed.  When I was in college I had no idea what to major in and kind of fell into Human Resources because I couldn't think of anything else.  I now have one kid and get to be a stay at home mom.  A lot less kids then what I thought.  Who knew it was so hard to raise a kid?  I used to nanny and it is totally different when it is your own.
What was your favorite way to kill time as a kid?
I lived in the country and there was not your average stuff to do.  When I was little like 8-14, I would either jump on my trampoline or ride my go cart.
When did you get your first cell phone?
I got my first cell phone in 1999.  At that time I got 200 anytime minutes, free nights and weekends, and paid $.25 per voicemail for the small price of $49.99. Every minute I went over it was $.25. Crazy, right?  That was a good deal then.
What is your favorite magazine to read?
I have always been a fan of People.  I had a subscription to it for about 8 years until I had S and quit my job.  At that point, I figured I could do without it.  Does anyone remember the magazine YM (Young Miss) from their tween, teen years?  That was my all-time favorite magazine growing up.
What is the one random object people would be surprised to find in your purse?
My purse is jam packed with stuff.  I carry everything from eye drops for B, to toy trains for S.  The one item I always have in my purse that has really come in handy is dental floss.  I always make sure there is some in every car we have.
Related
Disclaimer: I have never claimed to be any great writer. So any mistakes that are made are my fault. Sometimes I mix up names B, S, and P, but I think you can figure out who I am talking about. If you find any grammatical errors just fix it in your mind so it sounds right.