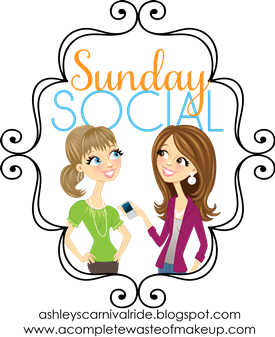 I am linking-up today with Ashley at
http://www.ashleylately.com/
and Neely at
http://www.acompletewasteofmakeup.com/
for Sunday Social.
What is the best trip you've ever been on?
I went to Hawaii to get married and then went on a 7 day cruise to all of the Hawaiian islands for my honeymoon.  I would say that was the best trip, even though the weather was unseasonably cold and rainy, nothing can beat Hawaii.  Just the atmosphere there is amazing.  I love that many houses don't have screens on their windows, have air conditioning or heat.  Because the average temperature is 80° many do not feel the need for either.  Being able to spend three days on Oahu exploring the island, and then taking a cruise was like the best of both worlds getting to explore Hawaii and be on a cruise.
What is your best idea for a girl's weekend trip?
I am not into girl's trips, too much drama for me.  If the opportunity was given, honestly I would probably just opt to stay home with my boys.
What is your best idea for a couple's trip?
As long as I am with B it really doesn't matter where we go.  We can always find something to do and have fun with each other.  We make the best of any bad or good situation we are put in.
What is the best vacation on the cheap?
Going somewhere you have friends or family that you can stay with.  Not having to pay for hotel cost is one of the best ways to save money on a vacation.
What is the place you most want to visit?
I'm a little leery of going anywhere overseas and prefer to stay in North America if I go on vacation so I am going to say I have no idea but would love some great suggestions.
Related
Disclaimer: I have never claimed to be any great writer. So any mistakes that are made are my fault. Sometimes I mix up names B, S, and P, but I think you can figure out who I am talking about. If you find any grammatical errors just fix it in your mind so it sounds right.