June 23, 2013
Comments Off

on Sunday Social
[adsenseyu1]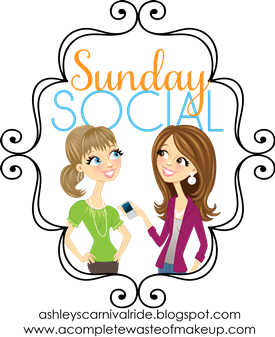 I am linking-up today with Ashley at
http://www.ashleylately.com/
and Neely at
http://www.acompletewasteofmakeup.com/
for Sunday Social.
What is your favorite store to shop at?  Target, duh!  But for clothes shopping I don't really have a favorite, but worked at Old Navy for five years and tend to fall back to them when I need clothes.  I do not like the quality or products from Old Navy, but it seems to be the only place I can find clothes I really like.  I am a cheap shopper and cannot justify spending a ton on clothes.  I wear yoga pants and t-shirts every day.
If you could afford anything and everything, which designer brand would you covet? Michael Kors…His clothing style is right up my alley.
What is your must have closet staple?  White t-shirts and white tank tops.  They are a must and I buy new ones every year.  I am all about layering.
What is your favorite kind of shoes? (brand or type) Flip-flops-they have to be Old Navy
What is the best clothing deal you've ever gotten? (sale or amazing find)  I really wanted this Old Navy romper two years ago and when I tried to get it online it was unavailable all summer long.  I was so bummed and was not able to get it.  I would check eBay and other websites to try and find it, to no avail.  We went to Old Navy in the fall and low and behold I found an online return romper in my size.  Not the color (khaki) that I wanted but navy.  Beggars can't be choosers, so I took it and ran.  I love it and am so glad I bought it.  It wasn't a great deal, but was because I would have paid more than $19.50 (reg. price) for it.  Happily I only paid $9.98.
What is a style you'd love to try?  I am not sure, I think I would like to try a stylist who will pick items out for me that will fit my body type and be in trend.
Related
Comments are closed.
Disclaimer: I have never claimed to be any great writer. So any mistakes that are made are my fault. Sometimes I mix up names B, S, and P, but I think you can figure out who I am talking about. If you find any grammatical errors just fix it in your mind so it sounds right.