June 5, 2013
Comments Off

on So What Wednesday
[adsenseyu3]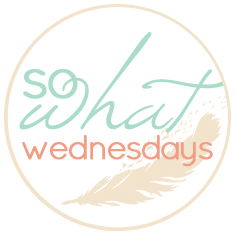 Today I am linking up with
Life After I Dew
for So What Wednesday.
Today I am saying so what if….
I had tears in my eyes at S's dentist appointment because he was being such a big boy.
I let S stay up later than I should because he is having so much fun and being good.  Does he sleep in any later? Rarely.
As I type this my neighbor has still not had her baby.  No matter what, that baby does not want to come.  She was induced Tuesday morning and as of 9 pm no baby.  He definitely does not want to join the world yet.
Neighbor's burn there green grass and it smells like an illegal substance.  Wait, not so what, I should say, Don't do it…..Don't burn green grass it smells terrible and cannot be good to breathe in.
I cannot decide on S's new theme decoration for his big boy bedroom and I currently have two sets purchased and need to return one.
I missed signing S up for Preschool Storytime at our local library.  I looked at the wrong date for enrolling and by the time I tried the classes were already full.  I guess we will have a carefree summer.
Derby jumped in the shower with me today to get away from S.  You know the chase must have been bad if Derby willing got in the shower with me.  I felt so bad for her I didn't give her a shower, and I just let her hide from S.
We set up our pool last week and now the weather has cooled off and we have not been able to use it in almost a week.
What are you saying 'So What?' to this week?
Disclaimer: I have never claimed to be any great writer. So any mistakes that are made are my fault. Sometimes I mix up names B, S, and P, but I think you can figure out who I am talking about. If you find any grammatical errors just fix it in your mind so it sounds right.