November 6, 2013
Comments Off

on So What Wednesday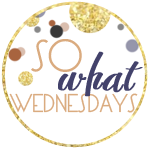 Today I am linking up with Life After I Dew for So What Wednesday.
Today I am saying so what if….
I still have no idea how I am going to do my hair for our family pictures today.
I went the cheap way out on getting outfits for Christmas this year.  B and I are already wearing tops we have and S is wearing the outfit I bought for him two years ago and now if finally fits.  Usually every year B and I get new tops to match S's outfit.  This year we are going white and calling it a day.
I don't know what I am going to use for props for S's Christmas pictures.  Maybe I can find something at Target this morning.  I really want the gigantic balls they use for displays on the outside of the mall.  If I could just borrow one for the pictures and put it back that would be perfect.  Too bad it weighs a ton and I don't think the mall security would think that was okay.
I am itching to wrap all of my Christmas presents.  I love wrapping presents.  I think it is one of my favorite things to do during the holiday season.
My Target Halloween clearance did not go 90% yesterday.  Of course today I am super busy and it is a bad day to make it to Target.  If I get up early maybe I can hit one store before I have to take S to storytime, and then we have to rush home to get ready for family pictures.  By the time those are over it will be around 2pm and most likely all the stores around me will be cleaned out.
What are you saying 'So What?' to this week?
Disclaimer: I have never claimed to be any great writer. So any mistakes that are made are my fault. Sometimes I mix up names B, S, and P, but I think you can figure out who I am talking about. If you find any grammatical errors just fix it in your mind so it sounds right.