May 1, 2013
Comments Off

on So What Wednesday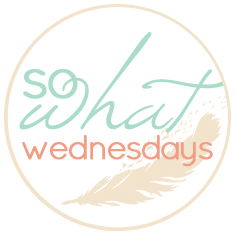 Today I am linking up with Life After I Dew for So What Wednesday.
Today I am saying so what if….
I never reach a million steps on my fitbit.  I know I have to get the points for insurance so I will try my hardest.  Monday I got over 15,000 steps which included my 3-4 mile bike ride, and 2 mile walk, on top of playing with S all day.
I get a lot of joy from watching my favorite TV shows.  I love watching TV; I don't think I can say it enough.  When I don't watch TV, I am reading books.  Escaping reality is what I think they call it.
B shrunk my favorite pair of jeans that fit perfect.  I guess those Pajama Jeans I bought will become my new favorite pair of jean wannabees. At least I will be super comfortable.
I ended up texting my cleaning lady to see if she still wanted to clean my house.  I am happy to say she returned my text and cleaned my house last Friday.  Yeah, I hate to wash floors and clean bathrooms.
I don't load the dishwasher every night.  I get the job done and load it eventually.  I hate to load one dish at a time and would rather load the entire thing at once.
I don't like to clean all of S toys up every night.  I pick all of the toys up and first thing in the morning he gets the toys out and puts them back in the same spot.  I want to say 'Why bother?', but I don't and pick his toys up anyway.
What are you saying 'So What?' to this week?
Disclaimer: I have never claimed to be any great writer. So any mistakes that are made are my fault. Sometimes I mix up names B, S, and P, but I think you can figure out who I am talking about. If you find any grammatical errors just fix it in your mind so it sounds right.