October 30, 2013
Comments Off

on So What Wednesday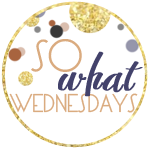 Today I am linking up with Life After I Dew for So What Wednesday.
Today I am saying so what if….
I am still not sure about Ravenswood.  I am going to give it another episode or two before I make any final decisions.
We went to IKEA in Cincinnati and ended up letting S get a new toy that he really didn't need.  Oh yeah, he got a stuffed rat on the way out like the one he got to pet at zoo school.
B let me sleep in yesterday and I still took a nap.  I was tired.
I keep raiding S's candy from his Trunk-or-Treating and eating a ton of his candy.  S has only had a few Dum Dum suckers and Tootsie Rolls.  He doesn't even know what a candy bar taste like.
I'm actually excited for Halloween to be over so I can start decorating for Christmas.
S looks so cute in footed pajamas and I never want him to grow out of them.
What are you saying 'So What?' to this week?
Disclaimer: I have never claimed to be any great writer. So any mistakes that are made are my fault. Sometimes I mix up names B, S, and P, but I think you can figure out who I am talking about. If you find any grammatical errors just fix it in your mind so it sounds right.