October 9, 2013
Comments Off

on So What Wednesday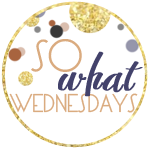 Today I am linking up with Life After I Dew for So What Wednesday.
Today I am saying so what if….
I fell asleep with S on me when we were watching a kids program.  When I woke up S was asleep on me and I let him keep sleeping even though it was already 6:30 pm.  I figured we had nothing going on the next morning so who cares if he wakes up at 1:00 am and wants dinner.
PJ got a bath on Sunday and I still think she does not smell good.  I just don't care for the way she smells dirty or clean.
Revenge (ABC) is not nearly as good as it was the first seasons.  Most shows aren't Grey's Anatomy was by far the best the first season, but I think Friends and Seinfeld got better the longer they were on.
I am not into the tank tops/shirts that have lace on the back of them and you can see through.  I don't care if it is the trend or not, I do not want to see bra straps.  I don't think it is cute when I see little girls wearing the tops and wear camis underneath.  Not my thing at all.
It may take my Tigers five games to win the ALDS.  As long as they win and move along in the playoffs I am good.  I am not ready to be done watching them.
Obama interrupted TV yesterday around 3 pm and I actually watched some of what he was saying and still had no idea what he was talking about.  I just sat there and was thinking is what he is saying even make any sense?  Not to me anyways.
What are you saying 'So What?' to this week?
Disclaimer: I have never claimed to be any great writer. So any mistakes that are made are my fault. Sometimes I mix up names B, S, and P, but I think you can figure out who I am talking about. If you find any grammatical errors just fix it in your mind so it sounds right.