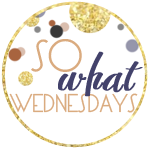 Today I am linking up with Life After I Dew for So What Wednesday.
Today I am saying so what if….
If I fall asleep snuggling with Baby A.  It just makes me remember the times with S.  Does it make me want to have another, NOPE.  I am good with just one child.  I always thought I would want four kids, but after having S I was so wrong.  He is and was such an easy kid, it is just so much work.
I have been reading books like crazy.  I read 2 ½ books in the past week.  Where do I find the time?
I really want to turn the heat on because it is so chilly in the mornings when I get up.  Especially on those days when I get up extra early to get Baby A.  Brrrr!
PJ is really starting to smell like a dog and needs a bath.  I don't mind giving Derby a bath, but hate to give PJ a bath.
Neezer has been spending about 20 hours a day in my bathroom.  He just sleeps on the rug in front of the bathtub.  It's funny we always used to have a hard time trying to find him, and now it is a given that is where he is.  Weird?  I think so.
B took the pool down yesterday and S is more excited about the sand under it that he now gets to play with.  I mean a sand box that is like 12×12.  What kid wouldn't love that?
What are you saying 'So What?' to this week?
Disclaimer: I have never claimed to be any great writer. So any mistakes that are made are my fault. Sometimes I mix up names B, S, and P, but I think you can figure out who I am talking about. If you find any grammatical errors just fix it in your mind so it sounds right.