August 14, 2013
Comments Off

on So What Wednesday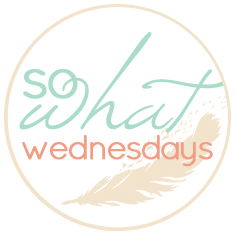 Today I am linking up with
Life After I Dew
for So What Wednesday.
Today I am saying so what if….
We left for our mini-vaca and the house was a mess.
There is a skunk that has been active in the neighborhood and I have had to smell it, because I have the house fan on at night.
I bought make-up at Target this week and have no plans to use any of it.  It was all free with coupons and I couldn't pass it up.
S hates that we raised his training wheels on his bike and now he wobbles.  We told him this was the first stage of learning to ride on two wheels.  I think he hates it more because he is afraid to ride fast now and has already crashed once on a turn.
We picked the garden before we left and didn't even make a dent in the garden.
We started packing the car yesterday morning and 5 hours later we finally left.  Only 3 hours behind schedule.  Instead of getting to the lake around 2pm we got up there at 5pm.
It was cold out and S still wanted to go swimming and play on the beach with the sand.  All the other kids were done and wearing sweatshirts along with the adults and S was still playing in the water.  He finally got out when he was completely white and had blue lips.
What are you saying 'So What?' to this week?
Disclaimer: I have never claimed to be any great writer. So any mistakes that are made are my fault. Sometimes I mix up names B, S, and P, but I think you can figure out who I am talking about. If you find any grammatical errors just fix it in your mind so it sounds right.