July 17, 2013
Comments Off

on So What Wednesday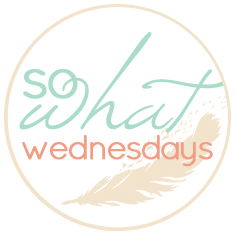 Today I am linking up with Life After I Dew for So What Wednesday.
Today I am saying so what if….
I have to clean up a ton of the house today and do not feel like doing any of it.

It has been so hot that I won't let S go outside and play until after 7 pm because of the heat.  It is still really hot out, but not excruciating.

I cannot figure out exactly how Pinterest works and I am not sure if I am even doing any of it right.

I can't think of anything else to add so it is going to be a short one this week!
What are you saying 'So What?' to this week?
Disclaimer: I have never claimed to be any great writer. So any mistakes that are made are my fault. Sometimes I mix up names B, S, and P, but I think you can figure out who I am talking about. If you find any grammatical errors just fix it in your mind so it sounds right.