June 18, 2013
Comments Off

on So What Wednesday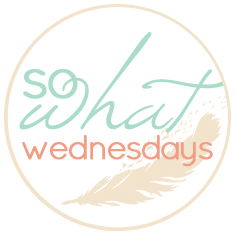 Today I am linking up with
Life After I Dew
for So What Wednesday.
Today I am saying so what if….
It took me two days to get caught up on the dishes after freezing all of the strawberries.
S needs a haircut and I have not given him one yet.  I would rather do it when he is on board so it is fun to do and not torture for him.
I brushed all the pets and Neezer was by far the worst.  He had so many mattes in his hair that I couldn't get them all and had to cut out a few and now he has short spots.  Neezer is not a long haired cat so he really shouldn't matte.  He never used to so we chalk it up to his diabetes.
S is eating a ton of strawberries in the past week. When I say a ton I mean a whole lot.  We thought for sure it would give him problems in the bathroom if you know what I mean, but it has not.  A few days in the past week we have not given him a smoothie because he had so many strawberries we were nervous to give him even more fruits and veggies.
I am complaining because S is eating too many fruits.  How many parents would love to have this problem?
We are getting a quote today for an in-ground pool and I am sure the estimate is going to be insane.  I really want one!
I was more excited about the Bowser Dog Beer I got in my BarkBox this month than anything else I have received.  I even invited the neighbor's dog over to have a drinking party! (Non-alcoholic dog beer, of course)
What are you saying 'So What?' to this week?
*This post contains affiliate links
Disclaimer: I have never claimed to be any great writer. So any mistakes that are made are my fault. Sometimes I mix up names B, S, and P, but I think you can figure out who I am talking about. If you find any grammatical errors just fix it in your mind so it sounds right.