May 19, 2013
Comments Off

on Snail Mail Sunday
[adsenseyu2]
Here are all of the free items I received in the mail this past week.  I am on a quest to see how much I can actually get.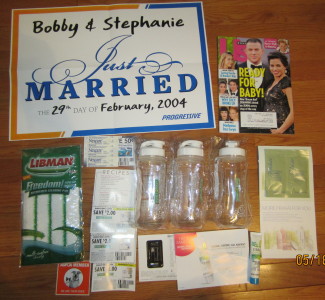 Magazines-US Magazine
Progressive Insurance Just Married Sign-When I saw this freebie I thought it would be fun, one to see if they would even print it, and two if it looked good I thought about framing for my bedroom.  It is actually pretty neat and I am going to frame and hang it in my bedroom.
Libman Microfiber Cleaning Pad-I entered a instant sweepstakes that Libman was promoting and I actually won.
Nexcare Bandages-3 bandages and a $.50 coupon.
Nature's Bounty Shaker Bottle-Don't ask me why I got 3 of them, because I cannot explain it.  When I checked my book where I record what I request I have a question mark because I didn't think it ever went through.  I guess it did 3 times.
Fekkai Glossing Shampoo & Conditioner– This was a Costco giveaway, and is supposed to help make hair shiny and smooth while maintaining color.
ASPCA Member sticker-How cute is this sticker!!!!
Boss Nuit-This sample was okay.  It was a little strong when I first smelled it earlier this past week and I smelled it again before I took a picture and it was okay.  Maybe it needs to mellow out before you can handle the smell.
Olay Shine, Shine Go Away!-This sample is perfect to try and see if this works.  It is supposed to deep clean and purify to refresh skin.
It was a good week for getting stuff in the mail.  When I got home from our train outing there were so many little packages waiting for me at my gate.  I was soooo excited. I will be using the Progressive Insurance Just Married sign, Libman microfiber cleaning pad, Nexcare bandage, and Olay Shine, Shine, Go Away.  I am not sure what I am going to do with the Nature's Bounty Shaker bottles.  There cute I am thinking maybe I could make them into gifts by putting some really cute stuff with them.  The ASPCA sticker S loved, and the Fekkai shampoo & conditioner samples   will be put in the giveaway box for my local breadbasket donations.
Disclaimer: I have never claimed to be any great writer. So any mistakes that are made are my fault. Sometimes I mix up names B, S, and P, but I think you can figure out who I am talking about. If you find any grammatical errors just fix it in your mind so it sounds right.