April 28, 2013
Comments Off

on Snail Mail Sunday
Sorry this is late, I had a headache last night and could not finish it. Today S did not want to let me use the computer today so I had to wait till he went to sleep.  Better late than never.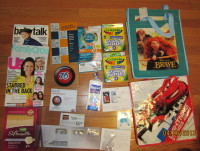 Here are all of the free items I received in the mail this past week.  I am on a quest to see how much I can actually get.
US Magazine, Family Circle Magazine and Baby Talk Magazine
Adventures in Parenting Book
76 Honk Suppressor-This came with a really funny card that said the following, "Congratulations, you have just received a very special, limited edition 76 Honk Suppressor. This almost state-of-the-art device is scientifically designed to help you wean yourself off unnecessary honking once and for all.  Simply use it anytime you feel the urge to honk and help make Honkaholism a thing of the past."  On the back of the honk suppressor it says, "The 76 Honk Suppressor is a toy and should not be used when your vehicle is in motion."  What an oxymoron.
Purina ONE Smart Blend Healthy Metabolism- Cat food 6 oz. bag of dry food, it also came with a coupon for one free 3oz can of Purina ONE Healthy Metabolism canned cat food.
2-8 pack Crayola Washable Markers- I got these in a deal from Wal-Mart.  If you ordered a cardboard cut-out you got markers free with it.  Due to a glitch they no longer had the cut-outs but were saying they had them in stock so Wal-Mart honored it by giving the markers to you for free and a $10 gift card for your troubles.  (I am still dealing with Wal-Mart about getting my refund but the markers and gift card did come.)
3 Disney bags, 2 Brave and 1 Car-reusable shopping bags.  This was an Earth Day promo, if you went to the Disney store and traded in 5 plastic grocery bags they would give you a reusable bag (worth $3.50).  So B, S and I went on Monday and got the bags.
Depends Silhouette Briefs (2 pack)-These came in a really pretty box and I was excited when I saw the box because it was not marked and I had no idea what was inside.  Boy was I disappointed when I opened the box and found Depends.  It also came with a $2.00 coupon.
Amore Pacific Moisture Bound Rejuvenating Collection-It is an Age Delay Skincare Regimen, which is supposed to significantly restore skin's healthy functions, regenerate new, fresh skin cells, 24 hour time-released delivery for longer lasting results, and Paraben-free formulas.  In this sample kit, it included Moisture Bound Rejuvenating Crème, Serum, Eye Treatment Gel, and Masque.
Ruffies 13 Gallon trash bag
Hugo Boss-Hugo Red smells really nice, and Hugo Man does not smell good.
Back Country Goat Bumper Sticker
It was a really big free stuff week.  I gave B the parenting book as a joke (it was free, someone could use it), but it was actually not a bad book.  I read it in one sitting.  B also took the bumper sticker for his hard hat at work, and the trash bag to be used for trash, (Duh!).  S got the Cars Disney bag and took the 76 Honk Suppressor the minute he saw it when I was trying to get a picture of it.  He has been playing with it non-stop.  The Crayola markers will go in our art box for S to use.  The Braves Disney bags, one will be used for a gift bag for one of S cousins since we got her a Brave Barbie for her birthday and the other one I will save for something.  The Purina ONE cat food will go to my neighbor since Derby always runs over to their house and eats all of the cat food on the back deck.  The Amore Pacific Moisture Bound Rejuvenating Collection Sample and Depends Silhouette Briefs will be put in the giveaway box for my local breadbasket donations.
Disclaimer: I have never claimed to be any great writer. So any mistakes that are made are my fault. Sometimes I mix up names B, S, and P, but I think you can figure out who I am talking about. If you find any grammatical errors just fix it in your mind so it sounds right.