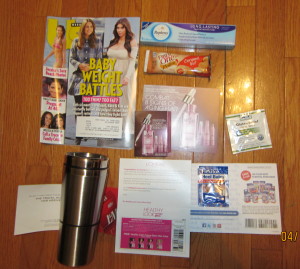 Here are all of the free items I received in the mail this week. I am on a quest to see how much I can actually get.
US Magazine
Replens-Long Lasting Vaginal Moisturizer
Fiber One Protein Bar Carmel Nut-These are soooo good, I had to refrain myself from eating it so I could take a picture.
Nexxus Youth Renewal Rejuvenating Hair Elixir-It is supposed to combat 8 signs of aging: volume loss, breakage, less shine, roughness, dryness, brittleness, unruliness, and loss of color vibrancy. (I requested this back on November 29th. I cannot believe it took over 4 months to get a sample.  It better be amazing.)
Gluten Relief Optimal Digestion-Supports the digestion of Gluten, Casein, Dairy, Grains and Proteins.
Travel Mug with storage compartment on bottom-I am not sure if the storage is for cream or sugar or if it is for something like Cheerios???  I got it from L&M (cigarette brand). I promise I don't smoke, but won't pass up a good freebie.
Loreal Crème Gloss Hair Color-Not sure what it does because I don't dye my hair, but my sister D is going to love it because it is a coupon for free hair color.  I won it in a giveaway on Facebook.
Flexitol Heel Balm-For rough, dry feet.
It was a good haul.  I am going to try the Nexxus Hair Elixir, use the Flexitol Heel Balm, and eat the Fiber One bar.  My sister will take the L'Oreal coupon.  The travel mug, Replens, and Gluten Relief Optimal Digestion pills will go in the giveaway box for my local bread basket donations.
Disclaimer: I have never claimed to be any great writer. So any mistakes that are made are my fault. Sometimes I mix up names B, S, and P, but I think you can figure out who I am talking about. If you find any grammatical errors just fix it in your mind so it sounds right.