November 3, 2013
Comments Off

on Snail Mail Sunday
Here are all of the free items I received in the mail this past week.  I am on a quest to see how much I can actually get.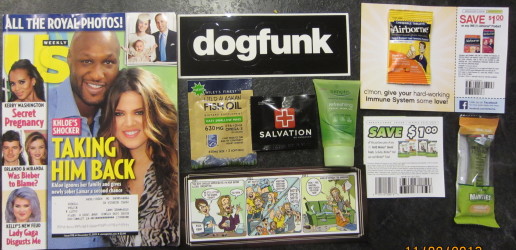 Magazines-US Weekly (Oh, Khloe and Lamar, more drama.  Can't wait to read you!)
DogFunk Bumper Sticker
Airborne-4 Chewy tablets that are a blast of Vitamin C.  It also came with a $1 coupon.
Wild Alaskan Fish Oil Dietary Supplements-630 mg of EPA + DHA Omega 3 per serving.  The Omega 3 is supposed to help reduce the risk of coronary heart disease.
Salvation No Hangover-These pills are supposed to help with not having a hangover the next day, I think.  It says to take the pills before you start drinking.  Here is a close-up of the comic that came with the pills explaining them.

Simple Refreshing Facial Wash Gel-This is a great travel size.  This is for sensitive skin, which is up my alley.
Minties Dental Treats-PJ and Derby love these and they are supposed to help with cleaning their teeth.  It also came with a $1 coupon.
This week was a light one.  I would prefer to keep having weeks like this where I get a few really good freebies.  I plan on reading about Khloe and Lamar.  B will add the DogFunk bumper sticker to his collection for future hard hats.  I will add the Airborne to our medicine cabinet for when B feels like he is getting sick.  I am going to try the Simple face wash, and the dogs are sharing the Minties bone as I type this.  The Salvation No Hangover and Wild Alaskan Fish Oil will be put in the giveaway box for my local breadbasket donation this week.
Disclaimer: I have never claimed to be any great writer. So any mistakes that are made are my fault. Sometimes I mix up names B, S, and P, but I think you can figure out who I am talking about. If you find any grammatical errors just fix it in your mind so it sounds right.