October 13, 2013
Comments Off

on Snail Mail Sunday
Here are all of the free items I received in the mail this past week.  I am on a quest to see how much I can actually get.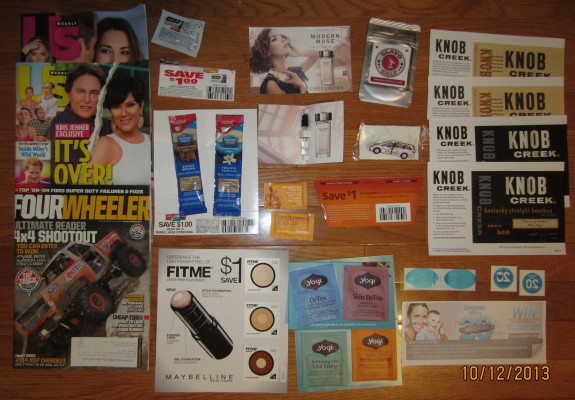 Magazines-2 US Weekly magazines (I knew last weeks would come on Monday and it did), and 4-Wheeler magazine for B.
Advil-2 tablet sample and a $1 coupon.
Maxwell House International Latte-Suisse Mocha and French Vanilla.  I am not a coffee drinker so I am not sure what you do with these.  There was also a $1 coupon.
Estee Lauder Modern Muse-This is a great little travel size bottle and while I did not care for the scent I bet one of my sisters will like it.
Slavo Salt-This is an all-purpose seasoning to enhance natural flavors of foods.
Honda Little League Pin-This is a very heavy pin that opens to show a vacuum cleaning up trash from inside the car.
Nectresse-2 samples made from monk fruit.  There is also a $1 coupon.
Knob Creek Kentucky Straight Bourbon-Four bourbon labels.  I have a few of them I personalized with them saying B's name.  I thought he may like them for his hard hat at work.  While they can't wear liquor stickers on their hard hats he can cut it up and use words.
Maybelline Fit Me Stick Foundation-The samples came in three different shades.  It reminds me of the old kind of stick foundation that used to look like lipstick.  It also came with a $1 coupon.
Yogi Tea-Four different flavors-Detox, Skin Detox, Refreshing Mint Vital Energy, and Vanilla Spice Perfect Energy.
Transition Lens covers-These are a trial sample to put over your glasses.
Designer Whey Tattoos-
This week was a good haul. The Us Weekly magazines I have already dived into, and B took the 4-Wheeler magazine and Knob Creek stickers.  The Slavo Salt I took upstairs for B to try.  If one of my sisters likes the Estee Lauder perfume they will take it otherwise, everything else will be put in the giveaway box for my local breadbasket donation this week.  This week was a big donation week.
Disclaimer: I have never claimed to be any great writer. So any mistakes that are made are my fault. Sometimes I mix up names B, S, and P, but I think you can figure out who I am talking about. If you find any grammatical errors just fix it in your mind so it sounds right.