April 6, 2013
Comments Off

on Snail Mail Sunday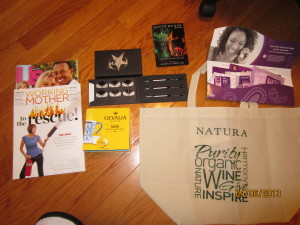 Here are all of the free items I received in the mail this week. I am on a quest to see how much I can actually get.
US Magazine (This is last week's magazine because I already read this weeks and recycled it.  It had Real Housewives plastic surgeries revealed!!!  Couldn't help myself.)
Working Mother Magazine
Marlboro Darts- No I don't smoke, but I do subscribe to Marlboro for all of the really nice stuff you get.  These darts are very nice, too bad I already told my dad about them or they would be perfect for Father's Day!  They are actually quite heavy and made of metal.
Gucci Guilty Fragrance Sample-Gucci Guilty Black for men smelled good, but the women not so much.
Gevalia Kaffe Single Servings- I got two samples in this box and they go with the Keurig Cup Brewer.  I do not have one, nor do I drink coffee, but my neighbor does and she was so excited when I gave these to her.
Natural Wine Eco Tote-nice good for groceries.
Poise Liner Samples
It was a pretty good haul.  The Marlboro darts will go to my dad (this will teach me not to brag about what is coming in the mail before I get it; I thought they would be plastic.  The Gucci fragrance goes in the trash because it was only a sample.  The Gevalia single servings will go to my neighbor.  Natural Wine tote goes with the rest of the grocery bags. The Poise liner samples will go in the giveaway box for my local bread basket donations.
Disclaimer: I have never claimed to be any great writer. So any mistakes that are made are my fault. Sometimes I mix up names B, S, and P, but I think you can figure out who I am talking about. If you find any grammatical errors just fix it in your mind so it sounds right.