Here are all of the free items I received in the mail this past week.  I am on a quest to see how much I can actually get.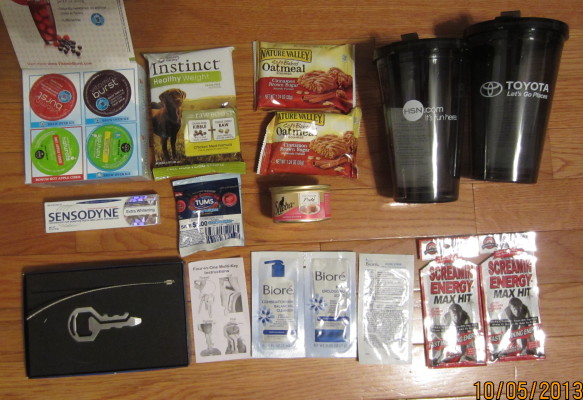 Vitamin Bursts and Green Mountain Naturals K-Cup 4-pack-I don't have a Keurig coffee maker, but my neighbor does and she loves when I bring over the samples.  Three of the cups are Brew Over Ice-Vitamin Burst Strawberry Pomegranate, Vitamin Burst Acai Berry, and Green Mountain Naturals Lemonade.  The fourth was Green Mountain Natural Hot Apple Cider.
Nature's Valley Instinct Healthy Weight-This is a great little sample of Chicken Meat Formula dog food.
Nature Valley Soft Baked Oatmeal Squares, Cinnamon Brown Sugar-These samples are from Pillsbury and Betty Crocker.
HSN.com Toyota Plastic Tumblers-I love the colors of these, and ordered them last Sunday and they came yesterday.
Sensodyne Extra Whitening Toothpaste-from Costco.  This is for sensitive teeth.
Tums Chewy Delights-sample from Target.com.  I will be putting these in my purse for B when he gets a touch of heartburn.
Sheba Wet Cat Food-Salmon Entrée Premium Pate
SKOAL 4–in-1 Multi-Key-This tool can be used for four different things: Thread (key ring), Cut (knife, kind of sharp), Tighten (flat head screwdriver), and Pop (can opener).
Biore Combination Skin Balancing Cleanser, Pore Unclogging Scrub, and Nose Strip-These are great samples to try.
Screamin' Energy Max Hit-These can be either added to water or taken as a shot of energy.
This week was a good haul.  No Magazines this week which was surprising.  I will probably get two US Weekly next week.  B will eat the Nature Valley Soft Baked Oatmeal Squares, eventually use the Tums Chewy Delights, and wanted the SKOAL 4-in-1 Multi Key.  My neighbor is getting the k-cups.  The dog food (Nature's Valley Instinct), and Sheba canned cat food will be given to local Humane Society.  The HSN plastic tumblers, Sensodyne toothpaste, Biore samples and Screamin' Energy Max Hit will be put in the giveaway box for my local breadbasket donation this week.
Disclaimer: I have never claimed to be any great writer. So any mistakes that are made are my fault. Sometimes I mix up names B, S, and P, but I think you can figure out who I am talking about. If you find any grammatical errors just fix it in your mind so it sounds right.