September 29, 2013
Comments Off

on Snail Mail Sunday
Here are all of the free items I received in the mail this past week.  I am on a quest to see how much I can actually get.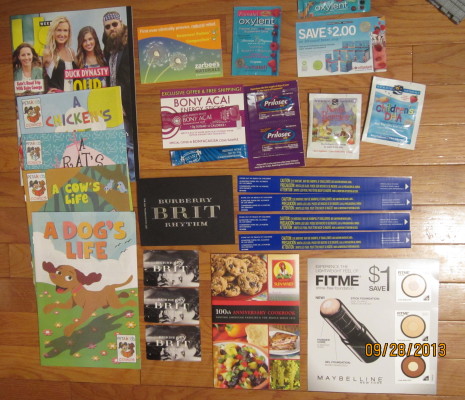 Us Weekly Magazine-I haven't even opened it yet!
PetaKids Comics-A Chicken's Life, A Rat's Life, A Cow's Life, and A Dog's Life
Zarbee's Naturals-Natural relief for seasonal pollen and congestion
Oxylent Prenatal and Children's-Both supplements are loaded with lots of vitamins to get the daily recommend amounts.  It also came with a $2 coupon.
Bony Acai and Noni To Go Instant Sticks-These can be added to water or pour it straight into your mouth (Adult Pixi Stick??).
Prilosec OTC-For heartburn relief.
Nordic Naturals Nordic Berries and Children's DHA-Vitamin supplements for children.
Burberry Brit Rhythm-3 temporary tattoos of perfume.  The directions said to peel the plastic backing off and stick to skin using damp cloth.  It adheres the cologne to your skin (I tried it.).  I did wash it off and it came off without any issues.
Tide Pods Resealable Stickers-These stickers are to be used on the Tide Pod containers to prevent children from trying to eat the pods because they look like candy.
Sun-Maid 100th Anniversary Cookbook-Not that I wouldn't expect it, but every receipt called for some kind of raisin.
Maybelline FitMe Stick Foundation-It came with 3 different colors of skin tones.  I tried one of the samples and it was pretty sticky, and had the same feel and coverage of the old stick foundations they used to make that looked like lipstick (Do they still make those?).
This week was a good haul.  The Us Magazine I will read and pass along, S is very excited to read the comics for his bedtime stories.  The stickers I gave to B.  The cookbook went with the rest of our cookbooks, and the Prilosec will go to my sister.  The Zarbee's Naturals, Oxylent, Bony Acai and Noni Sticks, Nordic Naturals Berries and Children's DHA, the other two Burberry Brit Rhythm, and Maybelline FitMe Stick foundation samples will be put in the giveaway box for my local breadbasket donation this week.
Disclaimer: I have never claimed to be any great writer. So any mistakes that are made are my fault. Sometimes I mix up names B, S, and P, but I think you can figure out who I am talking about. If you find any grammatical errors just fix it in your mind so it sounds right.