September 22, 2013
Comments Off

on Snail Mail Sunday
Here are all of the free items I received in the mail this past week.  I am on a quest to see how much I can actually get.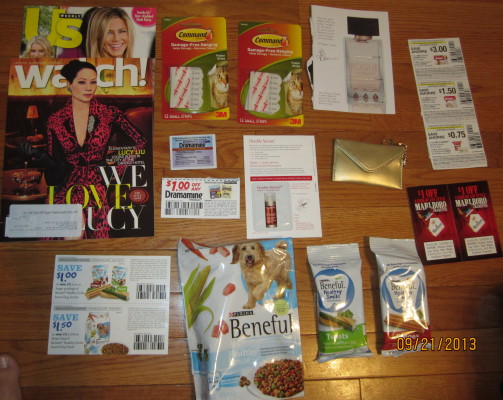 Us Weekly Magazine-I had to read it right away, the headline was the Jen is Pregnant.
Watch Magazine-I haven't had a chance to look at this magazine, but it was a really thick magazine.
3M Command Strips-2 packs of 12 small strips.  B has been asking me to buy these, so when they came free in the mail it was even better.
Rihanna Rogue-The smells of this were just a little bit too strong for me.
Huggies wipes-Not pictured (already in my purse).  3 Huggies coupons.
Dramamine-2 tablets, and $1 coupon
Clarins Double Serum-this sample is supposed to firm skin, reduce wrinkles, even complexion, and less visible pores.  It also came with a cute little gold change purse.  It would be perfect for business cards.
Marlboro coupons
Purina Beneful Healthy Smile dog food, twists, and ridges-It also came with 2 coupons.
This week was a pretty good haul and I was happy that the freebies have increased.  The 3M Command strips, Huggies wipes, Dramamine, Purina twists, and Purina ridges we will be using happily.  B cannot wait to use the Command strips for S's Hot Wheels wall track, the wipes went in my purse and the dogs will eat the treats.  The Rihanna Rogue sample, and Marlboro are going in the trash and it looks like only the gold change purse and Clarins Double Serum sample will be put in the giveaway box for my local breadbasket donation this week.
Disclaimer: I have never claimed to be any great writer. So any mistakes that are made are my fault. Sometimes I mix up names B, S, and P, but I think you can figure out who I am talking about. If you find any grammatical errors just fix it in your mind so it sounds right.