September 15, 2013
Comments Off

on Snail Mail Sunday
Here are all of the free items I received in the mail this past week.  I am on a quest to see how much I can actually get.  This week was really light.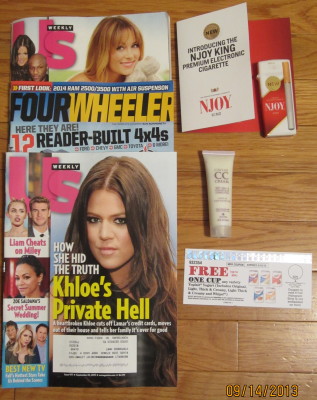 Us Weekly Magazine-I got last weeks on Tuesday and this weeks on Thursday.  At least I am caught up now.
Four Wheeler Magazine-This is for B and he will be happy to take this to work and read on those overnight shifts.
NJOY Electronic Cigarette-I got one free in the mail and I do not smoke.  I like that it came in its own little hard case.
Caviar CC Cream-This is supposed to be a 10 in 1 complete correction for hair.  It is a leave-in hair perfector.
Yoplait Yogurt Coupon-One free cup of any variety of Yoplait yogurts.
This was a super slow week for getting freebies.  When I went to check my shelf where I put all my freebies from the week, I had to look again because I could not believe this is all I got.  I was happy to see that I got my US Weekly from last week and this week.  I think I will take some time tomorrow to catch up on my Khloe and Lamar drama.  B will read the Four Wheeler magazine.  I am going to try the Caviar CC Cream for your hair, and B will use the Yoplait coupon when he goes to the store.  I am not sure what I am going to do with the NJOY electronic cigarette.  It looks like nothing will be put in the giveaway box for my local breadbasket donation this week.
Disclaimer: I have never claimed to be any great writer. So any mistakes that are made are my fault. Sometimes I mix up names B, S, and P, but I think you can figure out who I am talking about. If you find any grammatical errors just fix it in your mind so it sounds right.