Here are all of the free items I received in the mail this past week.  I am on a quest to see how much I can actually get.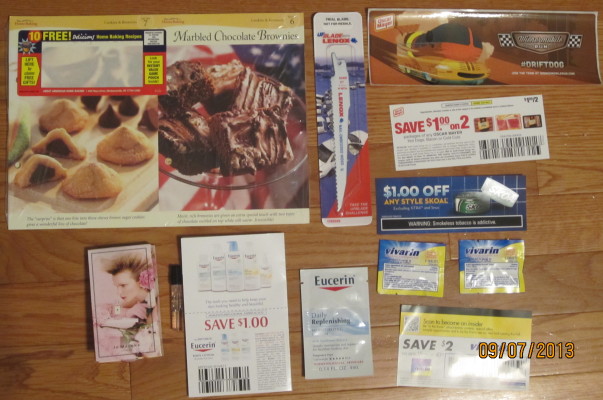 American Home Baking Recipe cards-This contained 12 random recipes ranging from fried chicken to chocolate chip cookies.
Lenox Blade-Reciprocating saw blade
Oscar Meyer Weinerville Bumper Sticker-This bumper sticker made me laugh when I saw it.  There was also a $1/2 coupon.
Jo Malone Peony & Blush-This is a small sample that would be great for traveling.  It has a nice little spray on the top for easy use.  The scent was to floral smelling for me.
Eucerin Daily Replenishing Moisturizing Lotion-Deeply moisturizes and replenishes for healthier looking skin.  It also came with a $1 coupon.
SKOAL coupon
Vivarin Caffeine Tablets-It says one tablet is equal to one strong cup of coffee.  This sample had two packets and each had two tablets.  It also came with a $2 coupon.  I cannot wait to try this; I am always so tired in the morning and not a coffee drinker.  I don't want to drink tons of pop either for all the empty calories.  One Coke a day is just not enough.
This was a really slow week for getting freebies.  Maybe it was because Monday was a holiday so I missed one day of getting stuff.  I didn't even get my US Weekly magazine this week.  I looked at the recipe cards and like quite a few of the recipes and will be trying them.  The Lenox Blade and Oscar Meyer bumper sticker go to B.  I am going to try the Vivarin Caffeine tablets and cannot wait.  The Jo Malone perfume sample and Eucerin Moisturizing lotion will be put in the giveaway box for my local breadbasket donation.  The SKOAL coupon goes in the trash.
Disclaimer: I have never claimed to be any great writer. So any mistakes that are made are my fault. Sometimes I mix up names B, S, and P, but I think you can figure out who I am talking about. If you find any grammatical errors just fix it in your mind so it sounds right.