August 25, 2013
Comments Off

on Snail Mail Sunday
Sorry, I posted this late.  I was too tired to finish it up last night.  We had a busy Saturday I will recap on Monday.
Here are all of the free items I received in the mail this past week.  I am on a quest to see how much I can actually get.  S just had to be in the picture.  How cute is he?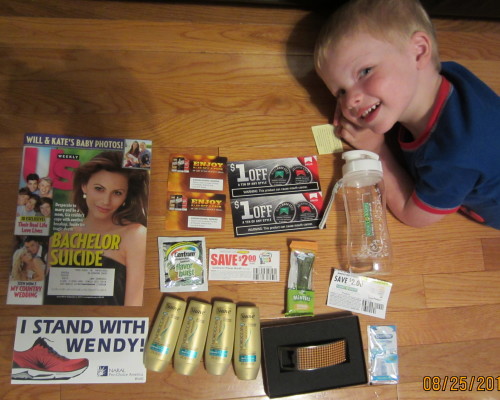 Magazines- US Weekly
Tobacco coupons-Two for Black & Mild, and 2 for Marlboro chew.
Nature's Bounty-Water Bottle and a $2 coupon
I Stand With Wendy! Sticker-
Centrum Flavor Burst-Pineapple flavor, multi vitamin supplement, two chews.  It also came with a $2 coupon
Suave Moroccan Infusion Shampoo & Conditioner travel bottles-Suave Professional with Moroccan Argan Oil
Minties Medium bone-Dental treat for dogs.
Black & Mild Bottle Opener-This is a really nice opener and came packaged really nicely.
Dentek Pick-1 dental floss pick
This was an average good week for getting free stuff.  I haven't had a chance to read the US Weekly.  The tobacco coupons go in the trash, the dogs happily ate the Minties bone, the bumper sticker B will cut up and use on his hard hat, the Suave shampoo & conditioner and the dental floss pick will be put in our travel/sample drawer for traveling.  I am not sure what I am going to do with the bottle opener, keep it, gift it, or give it away.  The Centrum chews and water bottle will be put in the giveaway box for my local breadbasket donation.
Disclaimer: I have never claimed to be any great writer. So any mistakes that are made are my fault. Sometimes I mix up names B, S, and P, but I think you can figure out who I am talking about. If you find any grammatical errors just fix it in your mind so it sounds right.