July 29, 2013
Comments Off

on Snail Mail Sunday
Sorry this is late, but I was camping and had no Wi-Fi or cell signal.  As I said before, better late than never!
Here are all of the free items I received in the mail this past week.  I am on a quest to see how much I can actually get.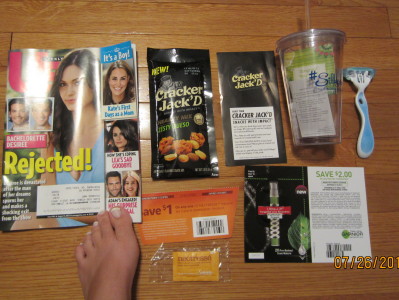 Magazines- US Weekly, Boating
Cracker Jack'D Zesty Queso-Cracker Jack came out with a new type of Cracker Jack, I feel is geared more toward adults.  B would not try this before we left for camping, so I guess we will have to try this when we get home.  It also came with a new sticker for B's hard hat at work.
Silkology Tumbler-I won this in a giveaway and will add it to all of the cups I have received this year.  I think this is number 6 or 7.  I should take a picture of all of the cups at the end of the year.
Schick Hydro Silk Disposable Razor-This was from Wal-Mart.  I didn't really like that it did not come packaged.  It was in the cardboard box and that was it.
Nectresse-100% natural no calorie sweetener made from monk fruit.  It also came with a $1 coupon.
Garnier Ultra-Lift Targeted Line Smoother-This cream is a moisturizer that tightens and smooths the skin.  It also came with a $2 coupon off any Garnier moisturizer.
This was another light week in getting samples.  The magazine was put to good use while camping.  What would I have done when it was raining outside if I didn't have the magazine to read?   B will eat the Cracker Jack'D, one of my sisters will use the razor, and the tumbler, Nectresse and sample of Garnier will be put in the giveaway box for my local breadbasket donation.
Related
Comments are closed.
Disclaimer: I have never claimed to be any great writer. So any mistakes that are made are my fault. Sometimes I mix up names B, S, and P, but I think you can figure out who I am talking about. If you find any grammatical errors just fix it in your mind so it sounds right.