July 21, 2013
Comments Off

on Snail Mail Sunday
Here are all of the free items I received in the mail this past week.  I am on a quest to see how much I can actually get.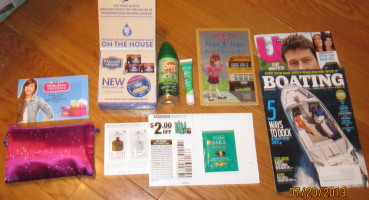 Magazines- US Weekly, Boating
Being Girl Always Sample pack w/ wristlet-This is a cute little bag, and inside was 2 pantiliner, 1 pad and 2 tampon samples.  I received this exact sample pack a few weeks ago from Always.
Maxwell House Single Serve Cup-This came from Wal-Mart samples, and as it says is made from 100% Arabica Beans.
OFF! Deep Woods Dry 2.5 oz. can-B uses this stuff religiously, and it will come in handy next weekend when we go camping.
NO–AD Sunscreen-This is a great little sample that will go great in my bag.  Maybe I can even get B to try this since it says it is non-greasy, gives a dry feel, and moisturizes all at the same time.
Junie B. Jones and the Stupid Smelly Bus #1-Sylvan was offering a free book to start your Junie B. Jones collection.  Even though S is a boy, and Diary of a Wimpy Kid may be more appropriate, I am going to try this and see if he likes it.
Lacoste fragrance samples-black was very musky, and white was my preference.
Optimum Amla Legend Damage Antidote-This is a great little sample to help repair damage and prevent it.  It also came with a $2 coupon.
This was a light week in getting samples.  While I didn't get many samples this week, the ones I did received were really nice.  The US Weekly I already read and B will take the Boating magazine to read at work.  The Always samples will be donated and the wristlet I will hang on to.  I am sure it will make a great addition to a gift.  My neighbor loves the single serve cups and will happily take this.  B will use the OFF! and hopefully try the NO-AD sunscreen.  I am going to try to see if S will be interested in the Junie B. Jones book, and the Optimum Alma will be put in the giveaway box for my local breadbasket donation.
Disclaimer: I have never claimed to be any great writer. So any mistakes that are made are my fault. Sometimes I mix up names B, S, and P, but I think you can figure out who I am talking about. If you find any grammatical errors just fix it in your mind so it sounds right.