Here are all of the free items I received in the mail this past week.  I am on a quest to see how much I can actually get.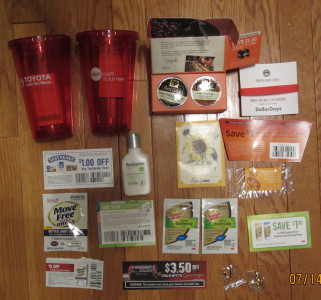 Magazines- US Weekly (Not pictured, already reading and S hid it on me.)
2 HSN Toyota Tumblers-These were offered a few weeks ago, with a limit of 2, so I ordered two.  The tumblers where actually really nice. You have the option of using a straw or you can use a spout on the top.  I like having a choice; it is something I have not seen yet.
Single Serving Peet's Coffee-The two flavors are Major Dickason's Blend, and Café Domingo.  The Major Dickason's Blend is described as rich, complex, fall bodied, deep roast, and the Café Domingo is described as smooth, balanced, medium bodied, medium roast.  I do not drink coffee, but my neighbor will love these.  It also came with a $1.00 off a 10-pack coupon.
I Care Dollar Days.com red plastic bracelet-It says I Care on one side and DollarDays.com on the other.
TastyKake $1.00 coupon
Schiff Move Free Ultra Omega-New better joint comfort than Glucosamine & Chondroitin.  A $5.00 off coupon came with it.
Amlactin Moisturizing Lotion-This lotion had a smooth creamy texture.  I didn't really smell a scent.  There was also a $3.00 coupon on any Amlactin product.
Copenhagen coupon-This is headed straight for the trash, I only signed up to get the free stuff, which hasn't come yet.
Burt's Bees Wild Bees Seed Packet-This will be great for someone wanting to plant a blend of wild flowers.
Nectresse Sweetener Samples-This sweetener is made from monk fruit which is grown on small farm orchards.  There is a coupon for $1.00
Scotch Brite Botanical Disinfecting Wipes-2 individually packaged wipes.  These will be going in my purse/bag and I am sure will come in handy when we are out and about.  There was also a $1.00 off coupon on two wipes.
There was some great stuff in the mail this week.  The HSN Toyota tumblers were packaged in separate boxes and they were some good sized boxes.  What a waste of space.  There was also some information about the Toyota Rav 4 and that is why you got the free tumblers because you requested the info on the car.  Me I just wanted the tumblers.  I put the disinfecting wipes in my purse and the coffee will go to my neighbor later today.  The bracelet, Schiff Ultra Omega, Amlactin Lotion, Burt's Bees seed packet, and Nectresse sample will be put in the giveaway box for my local breadbasket donation.
Disclaimer: I have never claimed to be any great writer. So any mistakes that are made are my fault. Sometimes I mix up names B, S, and P, but I think you can figure out who I am talking about. If you find any grammatical errors just fix it in your mind so it sounds right.